It has been confirmed that SK Hynix started mass-producing 4th generation (72-layer) 3D NAND flash wafers and achieved 'golden yield', which had been SK Hynix's biggest obstacle. Its solution product that uses its own controller and firmware passed certifications.
Productivity of 72-layer 3D NAND flash memories will be increased by 30% compared to previous method and will be similar to productivity of Samsung Electronics' 4th generation (64-layer) 3D NAND flash memories, which are being mass-produced starting from June. SK Hynix has prepared groundwork for it to become a leading business in markets for NAND flash memories followed by markets for DRAMs.
According to industries on the 3rd, SK Hynix is mass-producing SSD (Solid State Drive) that uses 72-layer 256Gb NAND flash memories and eMMC (embedded Multimedia Card) for mobile devices and started supplying them to its customers. Fact that it started mass-producing these products in just 3 months removed from announcement on development of these products is unusually fast.
Usually meaningful mass-production takes place after 6 months at the earliest and more than a year at the latest after semiconductors are developed. Samsung Electronics first introduced its 4th generation (64-layer) 3D NAND flash memory in last August and started mass-producing in June, which is after 10 months from the announcement.
It is heard that management team such as Vice-Chairman Park Sung-wook of SK Hynix and President Jung Tae-sung, who is the director of NAND Flash Development Business Department has become highly encouraged. Especially Vice-Chairman Park took development of 4th generation NAND flash memory very serious like his life depended on it as his pride and company's pride crumpled as development took close to a year longer than Samsung Electronics. Vice-Chairman Park's last card was to at least push forward schedule of mass-production.
However SK Hynix internally was not optimistic as it was very nervous about having yield falling short of 50% even though it announced result of development of its product last April. SK Hynix practically had 'battles with yield' for past 3 months. Its management team and engineers had repeatedly spent nights doing research. As a result, yield went up vertically and has become comparable to Samsung Electronics' yield.
Besides yield, level of completion of SK Hynix's technologies is an eye-opening result as well. Its solution product that uses its own controller and firmware passed internal certifications. In the past, SK Hynix purchased and used controllers from other businesses. By successfully internalizing its own controller and firmware, it is expected that its profitability will improve greatly which will then prove that 'Park Sung-wook's magic' has worked.
Experts in industries who heard such news are evaluating that SK Hynix's competitive edge in NAND flash memory technologies is very close to competitive edge of Samsung Electronics, which is the top business in markets for NAND flash memories.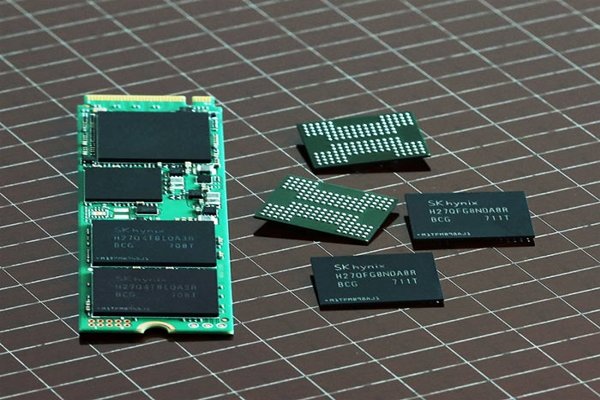 SK Hynix's 3D NAND flash chip is a TLC (Triple Level Cell) product that can save 3 bits per cell. Compared to MLC (Multi Level Cell) products that save 2 bits per cell, TLC has better production cost per capacity. Number of stacks of 72-layer 3D NAND flash memory is 1.5 times higher than 48-layer product, and SK Hynix has improved its productivity by 30% by maximizing its current mass-production plants. SK Hynix also doubled operation speed by applying fast circuit design inside of a chip and also increased reading and writing abilities by about 20%.
Fact that SK Hynix used its own controller and firmware is another success. 72-layer 3D NAND-based eMMC has SK Hynix's own controller and firmware while SSD of PCIe (Peripheral Component Interconnect express) interface just has its own firmware.
"Because lifespan of TLC is shorter than lifespan of MLC, software (SW) algorithm that inputs data into a memory cell and reads it is very important." said a representative of an industry. "Fact that SK Hynix applied its own controller and firmware to TLC NAND-based solutions proves that its competitive edge in related technologies has increased as much."
SK Hynix has been strengthening its competitive edge in NAND flash controller and firmware by acquiring Ideaflash (Italy) and LAMD (U.S.) in June of 2012, Innostor (Taiwan) in 2013, and Softec (Belarus) in 2014.
SK Hynix is currently mass-producing 72-layer NAND flash memories from its M12 plan in Cheongju. It is planning to start mass-producing 3D NAND memories from second floor of M14, which is its new plant in Icheon, during third quarter as well. "We expect that percentage of production of 3D NAND flash memories will exceed 50% at the end of this year."
Some predict that landscape of global NAND flash memory markets will change as SK Hynix succeeds in mass-producing 72-layer NAND flash memories. According to a market research company called IHS Market, market share of SK Hynix based on sales in NAND flash memory markets in this past first quarter was 11.4% ($1.341 billion) and it was the fourth highest after surpassing Micron (11.1%, $1.306) by a narrow lead. Samsung Electronics (36.7%, $4.302 billion), Toshiba (17.2%, $2.016), and Western Digital (15.5%, $1.816 billion) are the top three businesses in NAND flash memory markets. Experts explain that it will be slightly easier for SK Hynix to increase its market share by looking for chances while Toshiba Memory and Western Digital are going through a mess regarding a case of Toshiba Memory being sold.
Staff Reporter Han, Juyeop | powerusr@etnews.com