South Korean display equipment manufacturers are placed at the top of a ranking for global sales as they have become beneficiaries when investments for displays have been focused on South Korea and China. Because it is expected that basis for investments will take place with flexible OLED at the center for many years in the future, it is expected that South Korean equipment manufacturers will continue to grow in the future.
According to information from market research company called Display Supply Chain Consultant (DSCC), South Korean display equipment manufacturers such as SFA (3rd), AP Systems (9th), Tera Semicon (11th), Jusung Engineering (13th), AVACO (14th) and others were placed at the top of a ranking for global sales. They have received huge interests from markets by quickly introducing their technical skills and brands by supplying large amount of OLED-related equipment to Samsung Display and LG Display.
According to summary of DSCC, markets for display equipment during first quarter were worth $4.5 billion which is about 93% growth from first quarter of last year. Also $8.9 billion worth of facility investments were carried out which is about 106% growth from first quarter of last year.
Display equipment manufacturers have quickly grown as South Korean and Chinese display manufacturers are making serious facility investments and as investments are gathering around flexible OLEDs.
Canon, which was the top company in sales during first quarter, occupied more than 50% of shares in markets for steppers and deposition equipment and grew by 504% compared to first quarter of last year. It occupied 16% of entire sales in markets for display equipment. According to DSCC, Canon surpassed Nikon for the first time after third quarter of 2014 and sold more steppers. Its subsidiary TOKKI has solidified its position in markets for OLED deposition equipment.
Applied Materials took the second place by occupying 9% of sales which was due to increase in demands for PECVD (Plasma-Enhanced Chemical Vapor Deposition) for flexible OLED encapsulation process.
Third place went to a South Korean company called SFA. It occupied 6% of sales by supplying significant amount of distribution automation equipment for displays to Samsung Display and exporting its organic deposition equipment to Chinese panel manufacturers. Although Nikon and ULVAC also occupied 6% of sales, growth of their sales was lower than SFA's.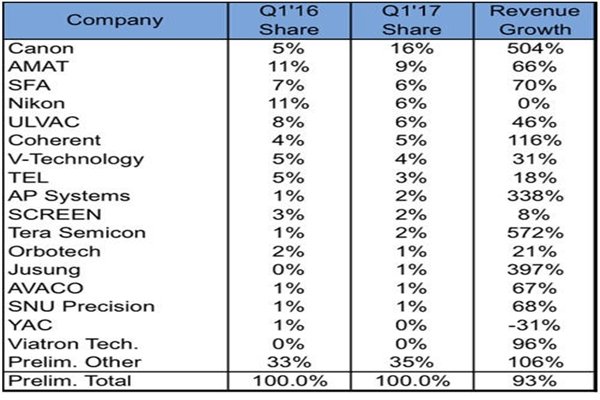 AP System took the 9th place in sales by supplying LLO (Laser Lift Off) and ELA (Excimer Laser Annealing) equipment that are necessary for flexible OLED process. Its market share was 2%.
Tera Semicon took the 11th place. It supplies curing equipment that makes polyimide (PI) solution into thin film and heat treatment equipment. Its growth compared to first quarter of last year was 572% and it was the biggest out of top 17 companies.
Besides these companies, Jusung Engineering (13th), AVACO (14th), SNU Precision (15th, acquired by SFA), and Viatron (17th) were also placed on the top 17 in sales.
DSCC is predicting that companies that are strong in technologies for flexible OLED equipment will continue to grow quickly in the future. DSCC chose Toray Engineering that specializes in PI coating, Tera Semicon, Viatron, AP System, Applied, and Jusung Engineering, Kateeva as the companies that will grow quickly in the future.
DSCC is predicting that South Korean and Chinese equipment manufacturers will occupy even more market shares in the future as South Korean and Chinese panel manufacturers are continuing to invest into OLEDs and large LCDs. DSCC predicted that as amount of automation increases for flexible OLED processes, markets for equipment in this field will also grow quickly.
"Global markets for display equipment is having unparalleled growth as Smartphones are converting from LCD to OLED and as amount of investments for OLED fabrication facilities which costs 2 times to 5 times more than investment cost for LCD fabrication facility has increased." said CEO Ross Young of DSCC. "This kind of trend of investments will continue for next 10 years or more."
"Although supply of large 4K TV panels including 60-inch panels is currently very tight, it will be effective in reducing production cost and prices of products to have at least 5 10.5th generation fabrication facilities within couple years." said CEO Ross. "New 10.5th generation fabrication facility will bring display equipment markets to a new dimension."
Staff Reporter Bae, Okjin | withok@etnews.com