Samsung Electronics is going to invest $6.98 billion (8 trillion KRW) to extend high-tech system semiconductor production lines. It is going to make supplemental investments into its 10-nano production lines in next month and construct new 7-nano semiconductor facilities in 2018. Its strategy is to secure ultra-fine processing technologies faster than its competitors. Samsung Electronics is expecting that it can recover Apple's foundry supplies that were taken by Taiwan's TSMC by operating 7-nano production lines early and this will also benefit equipment manufacturers.
According to industries on the 13th, Samsung Electronics has decided to extend 10-nano system semiconductor production lines in empty space of 17 Line, which is located in Hwasung-si, and ordered equipment from major domestic and foreign partners. Investments will take place starting from next month and equipment will be brought in during first half of this year. Starting from second quarter, it will produce 10-nano chips, which are already being produced from S1 Line in Giheung from 17 Line.
About $2.18 billion (2.50 trillion KRW) will be invested into extending 10-nano system semiconductor production lines. 18,000 10-nano semiconductors will be produced per month based on introduction of wafer from extension of 10-nano production lines while 25,000 10-nano semiconductors are currently being produced per month from S1 Line. Qualcomm's Snapdragon 835 and its own application processor (AP) called Exynos 9 Series (8895) are produced from Samsung's 10-nano production lines.
This is the third that Samsung Electronics is extending its 17 Line. Previous to this extension, Samsung Electronics had carried out investments for DRAM (1st step) and 3D NAND flash (2nd step) on 17 Line.
"Although 17 Line was initially called 'S3' since it was planned to be a line exclusively for system semiconductors, it has become a mixed line that produces DRAMs, 3D NAND flashes, and 10-nano system semiconductors in the future." said a representative for this industry. "It is true that investments into 10-nano semiconductors have reduced compared to its initial plan as TSMC took supplies of Apple's latest AP."
Samsung Electronics is making swift actions as it has high expectations on markets for 7-nano chips that will be commercialized in 2018. It is going to construct new facilities at a parking lot space next to 17 Line. Although area of these new facilities is about one-fourth or one-fifth of current 17 Line, it has decided to construct new facilities since there are not enough space throughout its business place in Hwasung.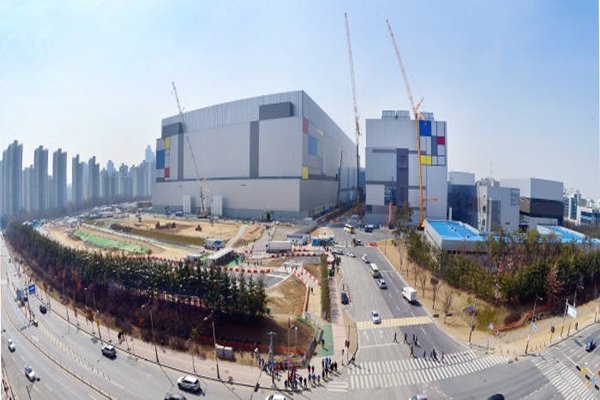 Samsung Electronics is going to construct facilities, install clean rooms, and bring in equipment by end of this year and establish mass-production system. It has decided to initially produce 30,000 7-nano chips per month based on introduction of wafer and is going to invest $5.23 billion (6 trillion KRW) in order to construct facilities and bring in equipment that can produce 30,000 7-nano chips per month. Reason why amount of investment is larger compared to amount of production is because high-tech EUV (Extreme UltraViolet) exposure equipment that is specialized for 7-nano process is expensive.
Samsung Electronics has decided to use EUV exposure equipment to produce 7-nano system semiconductors and ordered 8 of this equipment for now. Cost of each equipment is about $218 million (250 billion KRW) and $1.74 billion (2 trillion KRW) was used just to purchase this equipment. As amount of processes has reduced by bringing in this equipment, cost to purchase etching and exposure equipment will be reduced by a small margin. "$2.18 billion (2.50 trillion KRW) will be invested to extend 10-nano production lines and $5.23 billion (6 trillion KRW) will be invested to construct new 7-nano facilities." said a representative for this industry. "Samsung Electronics' goal is to finish investments for 10-nano production lines and 7-nano production lines by second half of this year and second half of next year or early 2019 respectively." This representative also said that amount of investments can increase in the future if Samsung Electronics wins an order from Apple to produce 7-nano chips.
However necessary time can be somewhat longer as an area of a land for new 7-nano facilities is too small and this will lead to longer TTM (Time to Market). While continuing to push for construction of new facilities, it is heard that Samsung Electronics has set up a plan to move equipment that is used to produce 3D NAND flashes at 17 Line to Pyeongtaek sometime during second half of this year and use corresponding space for 7-nano production lines just in case.
Regarding a case on new investments on system semiconductor, a representative for Samsung Electronics replied by saying there aren't any issues that are decided yet.
Staff Reporter Han, Juyeop | powerusr@etnews.com