Smartphones that can be bent and laid out can be released as early as 2018 as 'flexible hard-coating' technology, which was seen as the challenge in commercializing flexible Smartphones, has been developed. This technology makes plastic film cover that is easily bent and resistant like glass. As major technologies such as transparent film followed by flexible hard-coating technology are developed, it is likely that foldable Smartphones will soon be commercialized.
Professor Bae Byeong-soo of KAIST's New Material Engineering Department made an announcement on the 9th that he has developed flexible hard-coating material that can make foldable Smartphone's cover film easily bent and have its surface not scratched easily.
Smartphones have glass added on top of displays in order to protect screens from outer impact. Not only can glass resist outer impact but it is also suitable in showing clear screens since it is transparent. However glass cannot be bent. Because it can easily break, it is not suitable for foldable Smartphones that are bent and laid out repeatedly.
Plastic film such as transparent polyimide is seen as an alternative. Because it is transparent like glass and has high durability, it is not damaged even when it is bent and laid out repeatedly. However in order to completely substitute properties of glass, properties that are resistant to impact and crack need to support plastic film. Material that was developed by Professor Bae has given such properties to plastic film.
Professor Bae has implemented hardness like glass on top of surface of plastic film and prevented any damage or broken screen from outer impact.
Solidity and flexibility are properties that contrast to each other and it is difficult to implement both of these properties at the same time. Research team led by Professor Bae explained that it has completed hard-coating material through siloxane hybrid material that has silica glass, silicon rubber, and plastic molecule structure mixed elaborately.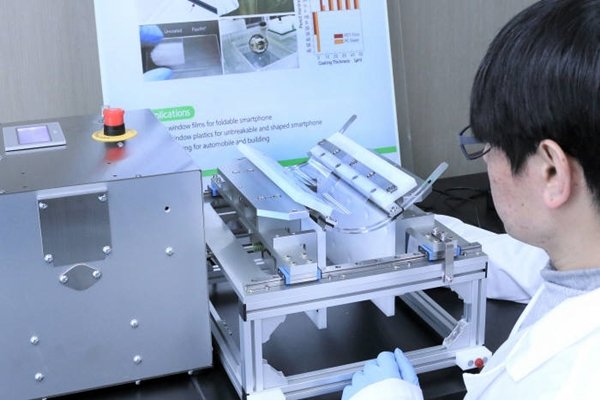 "We confirmed that siloxane hybrid material has high solidity like glass, flexibility like plastic, and elasticity like rubber through nano-coining test and nano-bending test." said Professor Bae. "Based on in-folding display that folds screen inward, this material has hardness of 9H and can be fold more than 200,000 times with a radius of under 1mm."
This material can also be used for out-folding display that bends screen outward. Professor Bae added by saying that the research team is currently improving performance of this material according to demands from major manufacturers.
Flexible hard-coating technology is meaningful that it will help in domestically producing materials that are needed to implement next-generation displays and Smartphones. It is predicted that commercialization of next-generation products will accelerate by securing hard-coating technology that makes transparent polyimide even stronger after KOLON Industry developed transparent polyimide. Industries are delighted that an original technology has been developed from a field of materials in which South Korean industries are weak on.
South Korean and other countries' IT industries are heavily interested in development of foldable Smartphones and displays. Not only Samsung Electronics, Samsung Display, LG Electronics, and LG Display are working to develop these foldable products but Apple, Microsoft, and LENOVO are also working to develop them.
Professor Bae established Solip Technology, which is a spun-off from KAIST University, in 2012 and is commercializing flexible hard-coating material. He is also pushing for mass-production of this material by having production facility within KAIST Munji Campus.
Result of research regarding flexible hard-coating material will be published on 'Advanced Materials', which is a scientific journal regarding materials.
Staff Reporter Yun, Keonil | benyun@etnews.com