Samsung Electronics is going to officially launch 'Samsung Pay Mini', which is a specialized version made to strengthen online payments, in March and this is expected to open 'second chapter of 'Samsung Pay' that covers online and offline.
Samsung Electronics made an announcement on the 1st that it will officially launch 'Samsung Pay Mini' that allows customers to use Samsung Pay not only on Galaxy Smartphones but also on Android-based Smartphones.
Not only can Android Smartphone users make online payments through 'Samsung Pay Mini' application but they can also use current Samsung Pay's additional functions such as membership, lifestyle, and transportation card. However offline payments can only be made on current Samsung Pay.
Samsung Pay Mini can be used on Smartphones that have HD (1280x720) displays or higher and Android 5.0 Lollipop Version or higher.
Samsung Electronics is going to open preliminary test services with Samsung Card on the 6th and officially launch Samsung Card Mini in March. It already finished testing connection of Samsung Card Mini with many credit card companies such as Hana Card, Lotte Card, and Shinhan Card.
Samsung Pay Mini allows people to use all online payments through single application.
One can make payments on online shopping malls and stores by putting information of all credit cards into single application. Samsung Card Mini application allows payments to take place automatically when consumers make payments online after consumers put information of their credit cards after inputting Ids and passwords or fingerprint authentication into Samsung Pay Mini application. This method is similar to Syrup Pay and Clip payment method.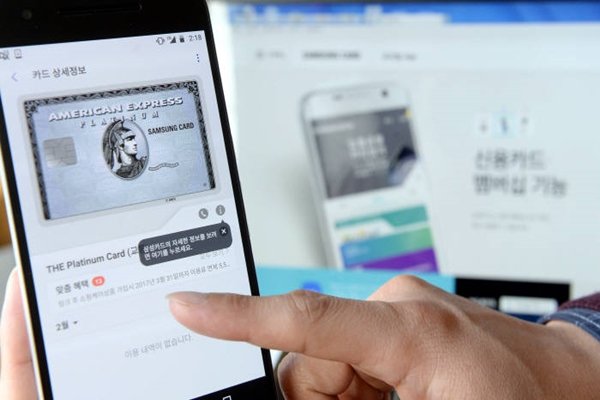 Samsung Electronics is going to expand usability and level of convenience of Samsung Pay by introducing new additional services such as 'Shopping' that allows users to immediately purchase goods from popular South Korean shopping malls and 'Rewards' that provides variety of benefits based on accumulated points that are collected from amount of uses.
Shopping service is automatically logged in to online shopping malls that are connected through Samsung Pay accounts and allows consumers to easily purchase goods whenever and whenever they are. Through this service, customers can search and purchase variety of goods from G Market, Hyundai Department Store, Wizwid, and fashion and beauty soho malls. Samsung Electronics is also planning to introduce specialized categories such as books, travels, and direct purchase from foreign shopping malls in the future.
Samsung Electronics is also going to introduce a service that allows consumers to collect points. Through rewards service, Samsung Pay customers can collect points when they make payments through Samsung Pay or participate in events. These points then can be used to exchange for coupons and participate in events.
Mini application can be downloaded now and used by downloading preliminary version from Google Play store. However one cannot download this application from Apple store because Apple did not allow Samsung Electronics to register Samsung Pay Mini application on its Apple Store.
By expanding Samsung Pay, which used to focus on offline markets, towards online payment markets, it is expected that Samsung Electronics will have fierce battles with Apple and Google.
Global mobile payment markets are growing at a very fast rate. They grew rapidly from being worth $7 billion in 2011, $29.2 billion in 2014, and $49.0 billion in 2015.
"By launching Samsung Pay Mini, Samsung Pay has become a versatile platform that absorbs online and mobile payments." said a representative for a partner of Samsung Pay. "Samsung Pay Mini will become a catalyst that allows Samsung Electronics to connect variety of additional businesses to Samsung Pay Mini."
Staff Reporter Gil, Jaeshik | osolgil@etnews.com & Staff Reporter Park, Sora | srpark@etnews.com