Samsung Electronics is putting out its QLED TVs as new premium TV brand for 2017. It is also going to separate current TV lineup into premium Quantum-Dot QLED TV, ultra-thin luxury LCD TV, and low and medium-priced LCD TV and make new plans for its brand and marketing strategies. Its strategy is to enhance its responses towards markets by diversifying lineup of its products from luxury products to low-end products.
According to an industry on the 27th, Samsung Electronics is going to separate current TV lineup into 3 products starting from 2017 and is not going to use its highest brand 'SUHD' that is currently using right now.
It has decided QLED TV, which is applied with Quantum-Dot technology, as its new highest TV brand. Although it initially looked at variety of names such as 'QLED' and 'Q SUHD' and thought about using SUHD and QLED side by side, it has decided to simplify the highest TV brand as QLED TV.
It seems that Samsung Electronics, which went all-in into Quantum-Dot technology, has decided on QLED TV as its highest TV brand with Quantum-Dot LED TV, which will be developed in the future, in mind. Quantum-Dot LED TV uses Quantum-Dot, which is inorganic, instead of QLED, which is organic, as its illuminant. 3rd generation Quantum-Dot TV, which will be the first QLED TV, is a product that greatly improves quality and color representation (applied with color volume technology).
Under QLED TVs, Samsung Electronics is going to newly form high-class LCD TVs to respond to medium and high-priced markets. These products will be introduced for the first time at CES 2017, which will be held in January in Las Vegas.
Samsung Electronics has been developing these products with a project name called 'MU'. MU is heard as the world's first continent to construct biggest civilization since creation of the world and the word 'MU' represents Samsung Electronics' expectation on growth of lineup of its medium and high-priced TVs.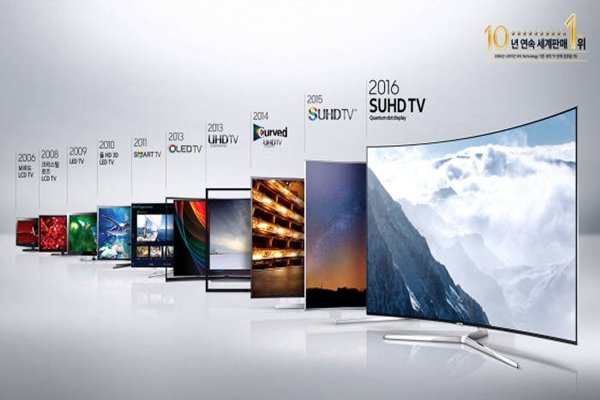 Although Quantum-Dot technology is applied to high-class LCD TVs, Samsung Electronics has attempted to differentiate their designs by making thickness thinner than current LCD TVs and minimizing bezel. Samsung Electronics has also increased functions and quality of its high-class LCD TVs. It is heard that Samsung Electronics is introducing new optical film that combines DBEF (Dual Brightness Enhancement Film) with POP Film and is making thickness thinner by applying edge-lit method that places LED on the both sides of LCD TVs.
Under high-class LCD TVs, Samsung Electronics is going to respond to low and medium-priced markets with lineup of regular LCD TVs.
Industries believe that Samsung Electronics has separated its TV lineup in order to have a command of its personalized strategy according to markets and consumers. By introducing high-class LCD TV models, it is going to attract consumers that feel financial burden towards Quantum-Dot TVs that are expensive. Currently Samsung Electronics' Quantum-Dot TV (SUHD) costs around later-end of 2 million KRW ($1,656) while its regular 60-inch full HD LED (LCD) TV costs about $828 (1 million KRW). Difference in prices that consumers feel is significant.
By introducing high-class LCD TV, it will be able to differentiate itself in competitions against Chinese TV manufacturers that are targeting markets with large TVs at low cost. Industries believe that Samsung Electronics will be able to separate itself from Chinese TV manufacturers as it has competitive edge in quality and know-how.
"Although price of entire full HD TVs is getting lower than $828 (1 million KRW), price of panels has increased and ha given financial burden to TV manufacturers with their production cost." said a representative of an industry. "Samsung Electronics will be able to grab new demands with its lineup of medium and high-class TVs that have better performance and design and hold its superiority in its competition against Chinese TV manufacturers."
Staff Reporter Bae, Okjin | withok@etnews.com & Staff Reporter Jung, Youngil | jung01@etnews.com