It seems that LG Display has partnered up with Apple and google and is developing 'out-foldable' displays for Smartphones. It is going to start mass-producing them in 2018 and supply them to Apple, Google, and Microsoft. It is predicted that Samsung Display and LG Display will compete against each other in order to grab upper hands in markets for foldable displays.
According to an industry on the 15th, LG Display is currently developing out-foldable panels for Smartphones. Unlike how Samsung Display is working with Samsung Electronics' Wireless Business Department, LG Display is developing foldable devices with outside businesses such as Apple, Google, and Microsoft.
LG Display already developed a prototype of out-foldable panel and it is heard that technical level of this prototype is significantly high. Although it is working with outside businesses, it is heard that it developed major parts of this prototype.
Until now, development project of foldable Smartphones by Samsung Display and Samsung Electronics was the pressing matter. They strongly expressed their intentions of grabbing upper hands in this field by introducing their prototypes to foreign customers and manufacturing and distributing a video of concept of foldable Smartphone. Industries predicted that they will lead innovation of completely new Smartphone hardware.
On the other hand, LG Display and LG Electronics did not make much noise about development of their foldable Smartphones due to reasons such as poor performance by LG Electronics' Smartphone business. They were at a situation where they could not expect synergy that exists between Samsung Electronics and Samsung Display.
LG Display secured global manufacturers as its partners. Apple, Google, and Microsoft were listed as first buyers of LG Display's foldable displays. It is heard that LG Electronics joined a group of buyers of foldable displays late.
Apple actually has many IPs (Intellectual Property) regarding foldable devices. It is predicted that Apple will introduce iPhones with flexible OLEDs starting from 2017 and compete against Samsung Electronics based on foldable Smartphones and tablets.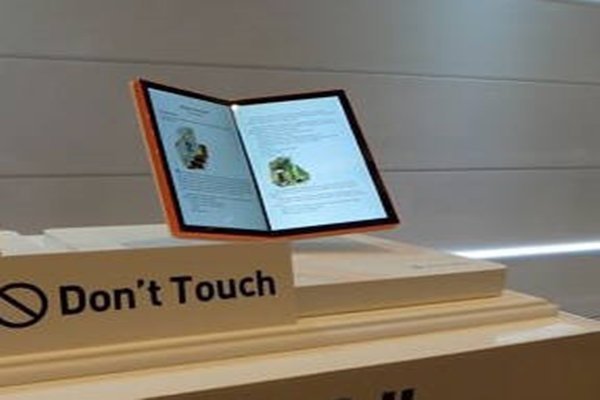 Google also started supplying its own Smartphones by launching Pixel Phone. If a Smartphone manufacturer does not jump into competitions for foldable Smartphones, which will emerge as important innovated devices, it will be hard for that business to eliminate an image of a low-level Smartphone manufacturer. Microsoft is working on expanding markets for surface laptops. Because foldable Smartphones can be either Smartphones or tablets, it is an opportunity that Smartphone manufacturers want to definitely go after.
Problem lies on a technology to mass-produce flexible OLEDs. Because Samsung Display was the first business in the world to mass-produce flexible OLEDs and has many technologies and experiences regarding production, it is somewhat more advantageous for Samsung Display in mass-producing foldable panels as well. Because new problems can arise regarding processes when a business carries out mass-production, technologies and experiences in mass-production are directly connected to competitive edge of a panel manufacturer.
Industries predict that South Korean companies will be the ones to compete for top positions again within markets for foldable panels. Although Chinese manufacturers such as LENOVO and OPPO introduced prototypes of foldable panels, level of perfection of their technologies is very low. Their major technologies such as parts of a panel that are able to be bent and films that replace cover glasses are not near being commercialized.
"Although level of their technologies is very low, Chinese manufacturers can be the first ones to mass-produce flexible panels by considering the fact that they can sell them at a cheap price to Chinese markets." said a representative for an industry. "However we need to see if they can actually mass-produce products that will have hard time competing against other global products."
"South Korean panel manufacturers have set goal of performance of their foldable panels significantly high." said a different representative of an industry. "Because they achieved most of results that correspond to their goals, it will not be too long before they start mass-producing their products after going through little bit of supplementation."
Regarding this news about partnership with outside companies, a representative for LG Display responded by saying LG Display cannot disclose any information regarding its customers.
Staff Reporter Bae, Okjin | withok@etnews.com