Chinese TV companies are starting to jump into markets for OLED TVs. Chinese panel manufacturer called BOE and a Chinese TV manufacturer called Skyworth have joined forced together and introduced their version of OLED TV. Their plan is to go after both Chinese and European markets at the same time and grab an upper hand in markets for OLED TVs that are currently led by LG Electronics.
According to an industry on the 20th, Skyworth recently introduced OLED TV with BOE's panel at '18th HighTech Fair' that was held at Shenzhen.
This is the first time when OLED TV using Chinese panel was introduced. Currently all OLED TVs that are on markets are using LG Display's panels.
Skyworth is a Chinese company that introduced OLED TV for the first time in 2013 and has currently released 7 types of OLED TVs. It is ranked second to LG Electronics in global markets for OLED TVs.
Upper management from Skyworth and BOE and representatives from Chinese government attended this event and showed interest to their own TVs. It is heard that they are planning to make an announcement about their plans to grab an upper hand in markets for OLED TVs that are secured by LG Electronics and LG Display with OLED TVs that are 'made in China'. Currently LG Display holds 100% of shares of markets for large OLED panels for TVs while LG Electronics holds 95% of shares of markets for OLED TVs.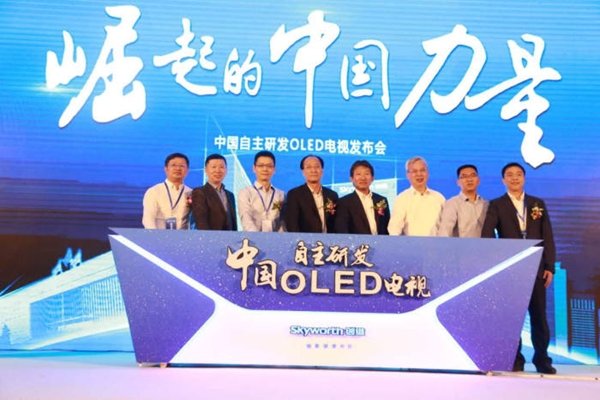 Chinese media reported that development of OLED TV with Chinese technologies is an important result that will lead competitive edge of Chinese Government's high-technologies such as manned space flight, high-speed railroad network, and development of aircrafts.
Skyworth is planning to sell these OLED TVs in China and Europe starting from next year. For European markets, it is going to go after them through 'Metz' that was acquired last year.
Chinese TV manufacturers have chosen OLED TVs as competitive edge that will differentiate themselves as competitions for TV markets are becoming worse and are planning to develop their own OLED TVs and expand their sales network. Including Skyworth, Changhong and KONKA also introduced their OLED TVs.
Chinese markets for OLED TVs are also growing rapidly. Sales of OLED TVs increased rapidly from 40,000 TVs during first quarter to 71,000 TVs during second quarter. A market research company called IHS is estimating that China will take up 20% of global sales volume of OLED TVs in 2018.
Appearance of OLED TV with a Chinese company's OLED panel is a huge variable to markets for OLED TVs. It is positive that this will help markets for OLED TVs to grow. On the other hand, it is inevitable for LG Electronics to compete with Chinese companies in markets for OLED panels and OLED TVs.
"As new competitors like Leeco are emerging in Chinese TV markets and as growth rate of South Korean TV markets is slowing down, TV manufacturers are focusing on OLED TVs." said a representative for a South Korean TV industry. "If Chinese companies join forces, their influence will grow as they dominate wide Chinese markets."
Staff Reporter Kwon, Keonho | wingh1@etnews.com & Staff Reporter Bae, Okjin | withok@etnews.com