LG Electronics is not going to apply modularized structure for its next strategic Smartphone called 'G6 (tentative)' that is expected to be released in 2017. It is basically withdrawing its strategy of modularization that was first introduced to G5 in just a year.
According to an industry on the 20th, LG Electronics has decided not to apply modularized Smartphone structure, which was introduced for G5, for G6. It is currently developing G6 according to internal policies. G6 is expected to have an integral structure just like previous LG Smartphones and other products.
"It is heard that LG Electronics has decided not to modularize its next Smartphone." said multiple representatives from multiple industries. "Corresponding products such as boards and audio chips are currently being prepared accordingly."
LG Electronics released world's first modularized Smartphone called G5 at the end of March. Because bottom part of this product can be separated, users can attach additional devices such as audio module or camera module.
At that time, it had drawn huge attention since it was a new attempt that was not done before to previous Smartphones. However LG Electronics was not able to achieve results that it expected because need for modules was not really needed when people have actually started using G5.
There was inconvenience in removing and attaching modules and users had to buy additional devices. Sales of G5 were low as there was a problem regarding production yield due to more complicated structure.
Even LG Electronics admitted that G5 was not a success and it led to huge change in executives who were responsible for development of G5.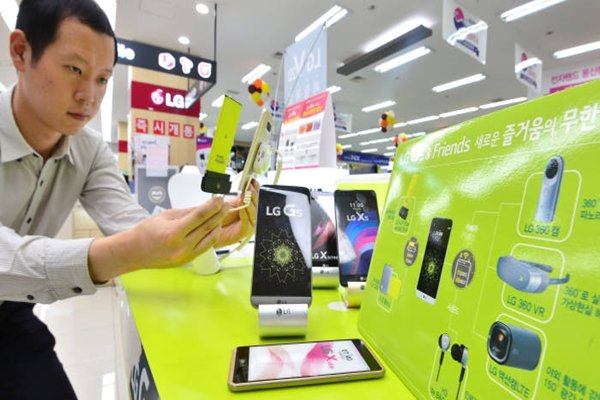 It is heard that LG Electronics is internally worried from withdrawing its modularization strategy. It can possibly lose trust from markets after changing its strategy in just a year and devices that were sold can be useless since they won't be compatible with Smartphones that will be released in the future.
LG Electronics is focusing on not repeating its mistakes. Also it is planning to restore its benefits through stable products rather than having to put up with risks.
"It probably was not easy for LG Electronics to put up with risks since its Smartphone business is already not doing too well." said a representative for an industry.
It is predicted that LG Electronics will push for 'change within stability' as it is going back to integral-type Smartphone from modularized Smartphone. LG Electronics is planning to develop its next Smartphone by applying demands from its customers and markets rather than being buried in creating innovations. If it prepares its next Smartphone without any problems, it will be able to restore opportunities that were lost in markets for Smartphones. Because V20, which was recently released, is seeing reflected benefits due to discontinuation of Samsung Electronics' Galaxy Note 7, LG Electronics' Smartphone business can be recovered even earlier if popularity of G6 backs up LG Electronics.
Outline of G6 is expected to be on surface very soon. LG Electronics is currently selecting its partners and major products that will be used for G6 and is busy with preparation as it is planning to release G6 in spring of 2017. It is heard that G6 will have new functions that were not seen before in previous LG Smartphones.
Regarding change in modularization strategy, LG Electronics said that nothing is confirmed yet.
Staff Reporter Yun, Keonil | benyun@etnews.com & Staff Reporter Song, Junyoung | songjy@etnews.com