Samsung Electronics is planning to mass-produce world's first 8GB mobile D-RAMs and this indicates that Smartphones with 8GB D-RAMs will be on the markets soon. Maximum capacity of premium Smartphones that are released until now was 6GB. It is predicted that supply rate of Samsung Electronics' 18-nano D-RAMs will also increase greatly.
Samsung Electronics made an announcement on the 20th that it has started supplying world's first 10-nano 16Gb LPDDR4-based (Low Power Double Data Rate 4) 8GB mobile D-RAMs this month.
8GB D-RAM layers 4 16Gb (2GB) mobile D-RAM chips and is produced through 18-nano process.
8GB LPDDR4 mobile D-RAM provides identical storage as 8GB DDR4 that is installed within high-performance ultra-slim laptops and can easily operate virtual computer environment with high specifications and 4K UHD videos through mobile devices also.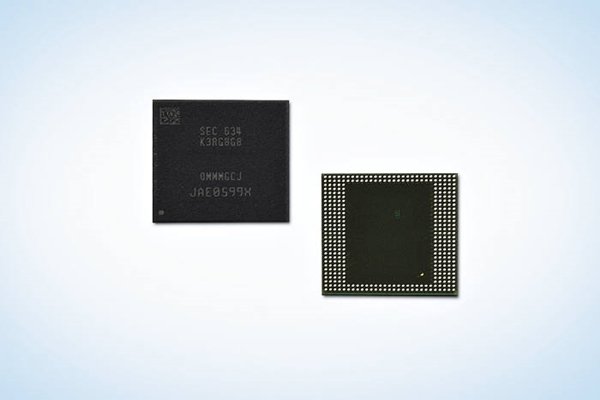 8GB LPDDR4 mobile D-RAM implements 4266Mb/s of speed, which is two times faster than high-performance PC D-RAM (4GB DDR4, 2133Mb/s) in reading and writing. Samsung Electronics applied 10-nano-level design and its own low-power technology and increased capacity and power consumption per unit capacity (GB) so that it is double the amount of capacity of 4GB mobile D-RAM. 8GB LPDDR4 mobile D-RAM has reduced thickness of size (area) of current mobile package (15x15mm) by less than 1mm. It can reduce size of packaging as it can be layered on top of eUFS (embedded Universal Flash Storage) or mobile application processor (AP).
"We have contributed into having our global customers releasing their next flagship mobile devices early through mass-production of 8GB mobile D-RAMs that are industry's largest capacity." said Vice-President Choi Ju-seon of Samsung Electronics Memory Business Department Strategy Marketing Team. "We are going to provide best memory solutions by strengthening our technical cooperation with our customers in variety of fields such as dual-camera, 4K UHD, and VR."
Samsung Electronics is planning to rapidly increase percentage of production of 10-nano-level D-RAMs by increasing number of supply of 8GB mobile D-RAM products. Although it is currently producing PC, server, and mobile D-RAMs through 10-nano-level process, its plan is to respond to increase in demands from global customers by producing 10-nano-level D-RAMs from current lines in the future.
Staff Reporter Han, Juyeop | powerusr@etnews.com