Hyundai Motor Company, which is facing all kinds of unfavorable factors such as reduction of sales, accusation by prosecution, flooding in plants in Ulsan, and decrease in stocks, is focusing all of its capabilities into Grandeur IG.
According to an industry on the 10th, Hyundai Motor Company that is struggling due to unfavorable factors that have come upon it all at once is thinking about releasing Grandeur IG early in order to prepare a breakthrough.
Hyundai Motor Company once pushed forward release date of Grandeur IG, which was expected to be released next year originally, to end of this year as it was going through slump of lack of domestic sales due to lack of new vehicles. Although it is supposed to be released at the end of November or early December, it is heard that related departments are concentrating all their capabilities to push forward release date as much as they can.
Sales volume for Hyundai Motor Company in the first half of this year increased by 4.5% compared to last year due to an effect of reduction of individual consumption tax. Also because number of sales volume of Genesis is increasing in foreign countries, it once made $42.4 billion (47.0273 trillion KRW) in overall sales.
However all kinds of unfavorable factors happened all at once for Hyundai Motor Company in second half of this year. After number of strikes has become frequent after temporary settlement for wage negotiation was broken down, sales volume has decreased rapidly due to end of reduction of individual consumption tax. It was calculated that Hyundai Motor Company had sold 41,548 cars in September and this value is decreased by 20% and 1.3% compared to last year and previous month respectively. Number of exports in all countries excluding Africa is also decreasing due to stronger won. Although Genesis brand, which holds Hyundai Motor Company's future, itself is still receiving positive responses, it still lacks number of lineups as a luxury brand and investment for marketing is still needed to increase level of recognition of Genesis.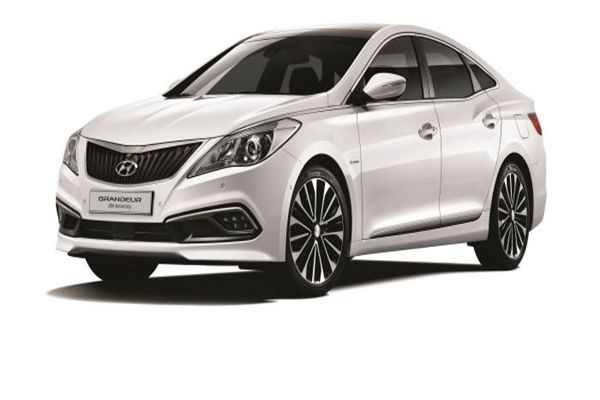 While these were happening, one of Hyundai Motor Company's employees in South Korea presented a suspicion of concealment of flaws regarding engines. To make things worse, Ministry of Land, Infrastructure, and Transport accused Hyundai Motor Company to prosecution for a suspicion of violating automotive management laws after saying that it has not finished taking actions regarding flaws of Santa Fe's airbags. Due to continuous suspicions of concealment, credibility of Hyundai Motor Company has started to decrease. Plants in Ulsan, which have stopped operating until the 10th due to typhoon on the 5th, are expected to start operating again on the 11th. Effects of these unfavorable factors were shown through stocks of Hyundai Motor Company. Hyundai Motor Company, which had maintained number 2 position in market capitalization followed by Samsung Electronics, was recently pushed to number 5 position.
It seems that Grandeur IG is the only breakthrough for Hyundai Motor Company as of right now. Grandeur IG is the 6th generation model that will be completely different from 5th generation HG model that was released in 2011. Grandeur is an important car for Hyundai Motor Company as it has put very existence of company in Grandeur. As it has maintained its position as South Korea's best luxury vehicle for long period of time, value of brand for Grandeur is higher than 'semi-large' cars. Amount of sales volume is extraordinary. Although Grandeur gave up its number 1 position to K7 in the past few months as Hyundai Motor Company has been preparing to release a new model, Grandeur has maintained its number 1 position out of semi-large cars. 6,000 K7s were barely sold per month right after new K7 was released and its monthly average does not even reach 5,000. In last year, average of 7,200 Grandeurs was sold every month.
Hyundai Motor Company is planning to recover from variety of unfavorable conditions by releasing Grandeur IG. Grandeur IG is expected to be heavily equipped with high-tech specifications such as 'highway driving support system' that corresponds to semi-self-driving function that surpass level of semi-large cars. Hyundai Motor Company is selling old Grandeurs on sale through Korea Sale Festa to focus on selling new Grandeurs. To maximize this, it is predicted that there is a chance that Hyundai Motor Company will introduce new Grandeur at the end of October preliminarily.
Current state of competitions is also favoring Hyundai Motor Company because effect of new vehicle from Kia's K7 and Chevrolet's Impala, which are cars that are competing against Hyundai's cars, is decreasing. Especially only 1,634 Impalas, which were considered cars that could not be sold as due to lack of supplies, were sold last month.
Responses from consumers, who had seen new Grandeur that was covered with camouflage curtain, are more positive than their expectations. Although they were not able to see the new design due to a curtain, hexagonal grille that holds Hyundai Motor Company's identity and headlamp that looks different are drawing huge attention.
"Although one year anniversary of Genesis is coming up, we are going to focus more on Grandeur IG than commemoration of anniversary of Genesis." said a representative for Hyundai Motor Company. "Along with new Grandeur, we are going to plan out programs that are satisfactory for our customers."
Staff Reporter Mun, Bokyeong | okmun@etnews.com