Samsung Electronics has temporarily stopped producing Galaxy Note 7s as there are reports about ignition of Galaxy Note 7s that are equipped with new batteries. Samsung Electronics has made such preliminary action before investigation organizations in each country makes formal announcements of such reports.
South Korean and other countries' investigation organizations are expected to order temporarily stoppage of production of Galaxy Note 7s. It is heard that Samsung Electronics is contemplating about complete stoppage of production of Galaxy Note 7s if it is necessary. Because these incidences had happened again after Samsung Electronics had issued recalls of old Galaxy Note 7s, Samsung Electronics' Smartphone business is facing huge crisis.
It was found out on the 10th through Samsung Electronics' partners that Samsung Electronics has stopped producing Galaxy Note 7s temporarily. It has made such action because there are continuous ignition incidences of Galaxy Note 7s and America's major mobile network providers have stopped exchanging old Galaxy Note 7s.
"We are currently adjusting our supply amount in order to reinforce our quality and to make a careful investigation due to ignition incidences of Galaxy Note 7s recently." said Samsung Electronics on the 10th due to a demand for inquiry notice from Korea Exchange.
"Temporarily stoppage of production includes plants in Vietnam that are responsible for global supplies and it is an action that considers safety of consumers." said a representative for Samsung Electronics' partner. "We've heard that Samsung Electronics has made such decision after cooperating with each country's government organizations such as South Korea's Korea Agency for Technology and Standards, U.S. Consumer Product Safety Commission (CPSC), and China's regulation authorities."
Samsung Electronics had supplied Galaxy Note 7s with new batteries starting from the end of last month. First ignition incidence happened in South Korea on the 1st of this month. At that time, Samsung Electronics made an announcement that it happened due to outer impact after applying results of investigations from a private inspection company called Korea SGS and KTL (Korea Testing Laboratory).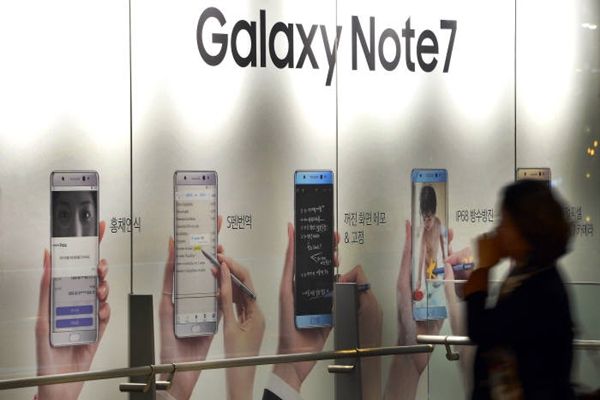 However this issue has gotten bigger after there were multiple reports of ignition of new Galaxy Note 7s in the U.S., Taiwan, and China. Media from the U.S. saw the issue very seriously and triggered AT&T and T-Mobile to announce stoppage of exchange of Galaxy Note 7 starting from the 9th (U.S. time).
Samsung Electronics has decided to stop production of Galaxy Note 7s before each country's investigation organization such as CPSC makes formal announcements to minimize reduction of credibility from its consumer. In last month, Samsung Electronics focused on minimizing fallout of its consumers by announcing its own voluntary recall before CPSC issues a formal recall. This temporary stoppage of production also seems like Samsung Electronics' strategy to strengthen its image that focuses on safety of consumers first.
According to each country's investigation organizations including CPSC, they are going to announce results of their investigations starting from the 11th. Although ignitions could have been caused by faulty parts, investigation organizations might even order stoppage of sales of Galaxy Note 7s.
Samsung Electronics is not giving up on handling of this situation and possibility of selling Galaxy Note 7 again and is focusing on finding out the exact cause of these incidences.
"Samsung Electronics internally believes that it will be hard to produce Galaxy Note 7s continuously while current situations are unclear as mobile network providers from the U.S. announced stoppage of exchange process." said a representative of this industry. "We are going to wait for results of investigations since investigations are still taking place and we do not know what is going to unfold in the future."
It is predicted that temporary stoppage of production will affect Samsung Electronics from resuming their supplies of Galaxy Note 7s. Currently 10 countries have stopped selling Galaxy Note 7s after Samsung Electronics issued a recall and it is predicted that major countries in Europe and India will resume selling Galaxy Note 7s starting from end of this month.
Staff Reporter An, Hocheon | hcan@etnews.com