A technology that was developed by LG Electronics is approved as standards for North America's next-generation ground-wave UHD broadcasting technologies. By being approved, LG Electronics now has an upper hand in ATSC 3.0, which is next-generation ground-wave broadcasting standard.
According to an industry on the 19th, ATSC 3.0 Physical Layer technology that was proposed by LG Electronics was approved as standards by members of ATSC, which is a North-America digital broadcasting standardization organization, during a meeting that was recently held.
This technology is a technology that can provide services such as OTA (Over The Air) related 4K resolution contents, HDR (High Dynamic Range), and target advertisements. Its strength is its ability to be used in complicated reception environments such as SFN (Single Frequency Network) and channel bundle.
"Physical Layer technology is one of many elemental technologies for ATSC 3.0 standards." said Chairman Mark Richer of ATSC (Advanced Television Systems Committee). "Fact that ATSC approved this technology as standards will become an important milestone to complete ATSC 3.0 standards." He also added by saying that other elemental standards for ATSC 3.0 are in final stage of standardization and that approval of OTA transmission system standards will become a basis for the future.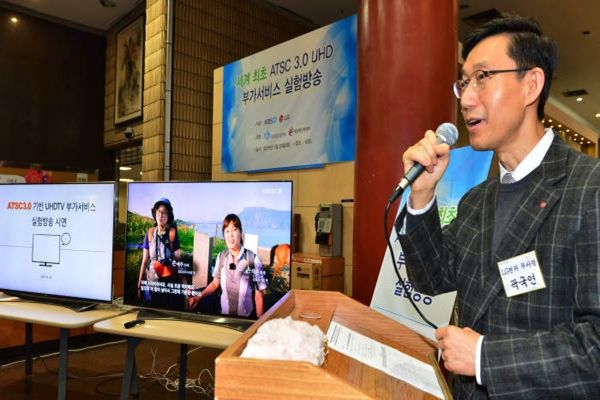 ATSC 3.0 is a technology that has been decided as standards for North-America's next-generation ground-wave UHD broadcasting. South Korea also chose ATSC 3.0 as standards for ground-wave UHD broadcasting.
With ATSC at the center, many global manufacturers, broadcasting companies, and research institutions are currently developing detailed technologies. While LG Electronics and Samsung Electronics are leading a process of standardization, many other global businesses are participating also. ATSC is going to select standardized technologies through final verifications and votes from members after looking at technologies that are proposed as candidates and technologies that are selected as tentative standards.
If a manufacturer has its technologies chosen as standards, it can seize an upper hand in next-generation technologies and can secure shares after its technologies are commercialized.
Beside of OTA technology, LG Electronics also proposed variety of technologies such as IP-based (Internet Protocol) transmission technology called 'ROUTE' that was selected as tentative standards. Samsung Electronics also had its IP-based transmission technology called MMT (MPEG Media Transmission), and Physical Layer-based technologies called LDPC (Low-Density Parity-Check Code) and NUC (Non Uniform Constellation) selected as tentative standards.
"I am proud of having our technology contribute greatly to ATSC 3.0 Physical Layer transmission system." said President (CTO) An Seung-kwon of LG Electronics.
Staff Reporter Kwon, Keonho | wingh1@etnews.com