Followed by Samsung Display, LG Display is also going to stop operating old LCD production lines. By converting some of LCD lines into OLED lines, it is going to expand its production capability for small OLEDs for Smartphones, cars, lights and others.
According to an industry, LG Display is planning to halt 2nd Generation (P2) and 3rd Generation lines that are located in Gumi sequentially starting from end of this year. Starting with P2 during fourth quarter of this year, it is expected that these lines will be halted throughout first half of next year. LG Display is looking into a way of halting part of 6th Generation (P6) lines and producing additional OLEDs by either converting them into OLED lines or utilizing idle spaces.
LG Display has been decreasing production capability of 2nd and 5th Generation lines starting from a year ago. It practically halted operation of P2 Line and is just waiting for a day to completely shut down P2. LG Display is also decreasing amount of operation for P3 since last year.
LG Display is converting part of P6 Line into OLED lines. It is converting part of P6 Line that produces LTPS (Low-Temperature Poly-Silicon) LCDs into plastic OLED lines.
A reason why LG Display is halting operation of old LCD lines is due to efficiency. Most of them started operating between end of 1990s and early 2000s and have old facilities and small board sizes. They mostly mass-produce small and medium panels for tablet PCs, laptops and monitors. Most of these panels are TN panels that do not cost too much.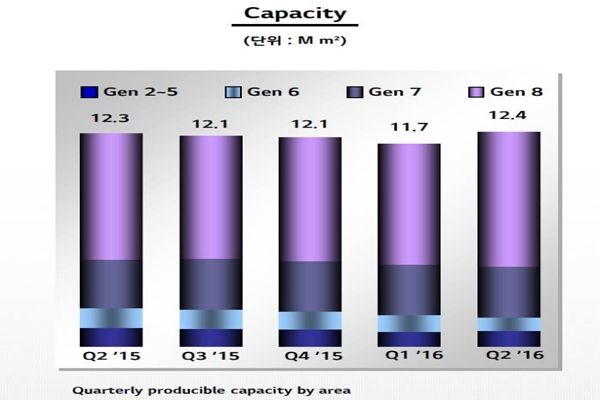 Samsung Display also halted operation of old LCD lines earlier on. Although TN panels do not cost much and have fast response speed, it lacks in resolution, view of angle, range of color representation compared to IPS method.
LG Display is going to stop operating old lines and is planning to convert them into small and medium-sized OLED lines. It is predicted that LG Display will shut down P2 and P3 Lines first. Industries predict that LG Display will sequentially stop operations of LCD lines starting with P2 in fourth quarter.
It is predicted that LG Display will convert P6 Line into plastic OLED line except for LTPS LCD production line (AP2). P6-1 and P6-2 started producing in third quarter of 2014 and first quarter of 2009 respectively and they produce LCDs for mobiles, monitors, and tablet PCs and LCDs for TVs, laptops, and monitors respectively. AP2 that produces LTPS LCDs is located inside of P6-2 Line.
LG Display is planning to completely change construction complex in Gumi that had been producing LCDs early on into production complex for small and medium-sized OLEDs and has converted P5 Line into a facility for OLED lights. It invested $124 million (140 billion KRW) and is constructing a 5th Generation Line that can produce 15,000 sheets per month. It is planning to smart mass-production in first half of next year.
"There were never incidences in global display markets when display manufacturers uniquely reduce their production capabilities of low generation LCD lines." said an expert in this industry. "Starting from this year, display manufacturers in South Korea, Japan, and Taiwan are actively halting operations of 2nd and 3rd Generation lines that do not produce profits."
"Since Chinese manufacturers are investing into 6th Generation LTPS LCD, attempts to reduce production capabilities of old lines with low profitability out of production lines that are less than 7th generation will take place." said a same expert.
"Although it is true that we are looking into halting P2 and P3 Lines, detailed scheduling is not confirmed yet." said a representative for LG Display. "Current production personnel will be moved to OLED lines and we are not considering separate restructuring."
Staff Reporter Bae, Okjin | withok@etnews.com