UNIST (Ulsan National Institute of Science and Technology) has selected 'Hyperloop' as its future project that will bring changes to societies.
UNIST (Chancellor Jung Moo-yeong) has started on 'U-Loop Project' to develop major technologies of ultra-fast transportation system called 'Hyperloop'.
This project will last for 5 years and is led by Professor Lee Jae-seon (Mechanical and Nuclear Engineering Department) as well as a task force team that is made up of rising professors such as Professor Lee Jae-hwa of same department as Professor Lee, Professor Kim Hyo-il, Jung Ji-hoon, Han Ki-jin, and Katherine Kim of Electric and Electronic Computer Engineering Department, and Professor Jung Yeon-woo of Design and Human Engineering Department.
"Many universities and businesses from the U.S. are carrying out tests for Hyperloop by applying variety of ideas after Elon Musk suggested it couple years ago." said Professor Lee Jae-seon. "However there aren't any universities and businesses that are actively doing tests on Hyperloop yet. Rising professors from UNIST have decided to work on Hyperloop like the motto from UNIST that says 'First in Change'."
UNIST's U-Loop Project Team (U-Loop Team) is going to develop differentiated elements from direction of research done by American universities and businesses even from the planning stage and apply them in designing this project. Although it is a bit early to call it 'South Korean Hyperloop, U-Loop Team is trying to play a 'leader' role rather than a 'pursuer' role.
First of all, U-Loop Team is going to enhance magnetic method, which is different from a direction that the U.S. is taking towards pneumatic difference, and apply it in floating and propelling Hyperloop trains.
Magnetic method floats trains by using a magnetic force that is caused from same magnetic poles pushing each other and causes momentum in movement by exerting this magnetic force repeatedly onto trains.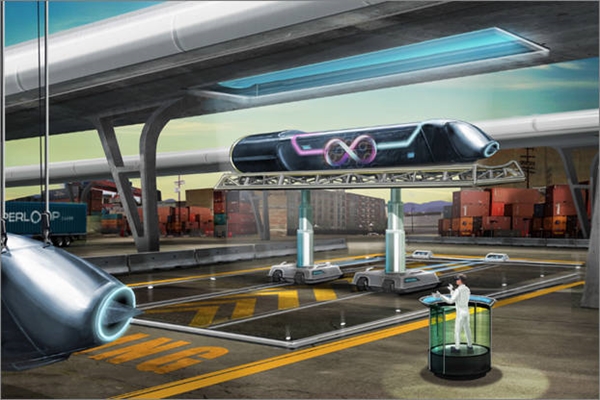 U-Loop Team is going to enhance current high-efficient motors and ESS (Energy Storage System) and develop new fast magnetic and propelling technologies. If it succeeds in developing these technologies, it will be able to earn long hours of momentum even if trains are accelerated in certain sections. To achieve these goals, it is going to utilize Smart Grid such as ESS and have energy density to apply high power to Hyperloop efficiently.
Air compressor is going to be applied to reduce and control air resistance within Hyperloop tubes. Based on supercomputing technologies, which are UNIST's strengths, U-Loop Team is going to optimize air resistance within tubes after going through fluid analysis and analysis of impact from acceleration.
U-Loop Team is also going to apply design of trains and terminals during early stage of this project to increase efficiency of overall system operation of Hyperloop.
U-Loop Team is also examining ultra-fast telecommunication network, which is linked to train services and customer services and can be considered as another project after commercialization of Hyperloop, during an early stage of this project.
UNIST held 'Hyperloop International Symposium' on the 21st regarding this and introduced its U-Loop project. It requested cooperation from related research organizations such as Korea Railroad Research Institute and Korea Institute of Machinery & Materials and presented direction of this co-research.
"UNIST is going to become a leader in actualizing Hyperloop that can go from Seoul to Busan in 16 minutes and bring huge changes to lives of all mankind." said Chancellor Jung Moo-yeong.
'Hyperloop' is an ultra-fast train system that runs capsule-type trains on train tracks that are designed as vacuumed tubes. It is faster than current transportation methods such as high-speed trains and aviation because it can run up to 1200km/h and it also has high level of safety. When economic benefits are seen from construction and service departments due to recent development of variety of related technologies, Hyperloop has emerged as a hot topic all over the world after Musk suggested it in 2013.
Staff Reporter Lim, Dongshik | dslim@etnews.com