A South Korean venture company has developed small camera module that has face-recognition software algorithm and an operation ability to process this algorithm.
CrasID made an announcement on the 21st that it finished developing a small face-recognition camera module called 'Voyager' and has started selling it. This is the first time in the world when a small camera module with camera module, software algorithm, and a processing chip is developed.
Face-recognition solutions that are distributed in markets all have camera modules and operation processors are loaded separately and systematized. For example, a laptop has its camera module take pictures and only sends data while software that operates on top of Windows OS is responsible for recognizing faces. Operation is controlled by CPU.
Voyager has all of these abilities in a module with a dimension of 5cm x 3cm x 2.2cm including lenses. Without operating systems like Linux or Android, it has RTOS (Real-Time Operating System) to operate face-recognition algorithm. Even in dark environments, it can accurately recognize faces by using IR lamp. Telecommunication interface supports UART (Universal Asynchronous Receiver/Transmitter). Voyager can also be used by linking variety of IoT development boards such as Raspberry Pi, Arduino, and Odroid.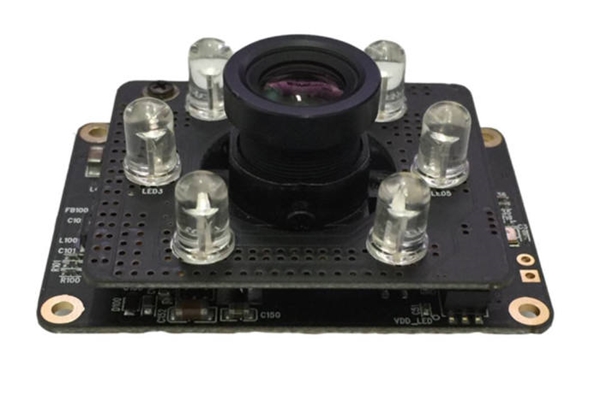 It has a special characteristic of operating a battery with low power. If this module is applied to a door lock, 4 AA batteries can last between 6 months and a year.
CrasID, which was established in January of 2009, has been working on licensing face-recognition software algorithms. CrasID's algorithms do not only measure lengths and widths of faces but they also check texture of faces. By doing so, its algorithms can accurately recognize faces even when they are printed through 3D printers.
CrasID is strengthening its management abilities by seeing that Voyager can be applied to safe boxes, robots, and door locks.
"Recognition rate of our face-recognition software algorithms is already recognized from South Korean industries." said CEO Park Heung-jun of CrasID. "We already have plans to develop and supply small products with lenses for mobile cameras and chip-type IR source in the future."
Voyager is the result of part of a project of Small and Medium Business Administration's Industry, University, Research Institute's Co-Development Project.
Voyagers are currently being sold through Device Mart and Eleparts that are internet shopping malls for electronic parts.
Staff Reporter Han, Juyeop | powerusr@etnews.com