LG Display has decided to invest into extending OLED production lines that are worth $850 million (1 trillion KRW) at its facilities in Paju and Gumi. Industries are interested because LG Display is expanding production lines for both small and large OLEDs for TVs, Smartphones, vehicles and others. Its partners are expected to also benefit from this as LG Display is ordering equipment and materials from them.
According to an industry on the 16th, LG has started a process that will convert part of P8 Line, which is a line in Paju that produces 8.5th generation LCDs, into a line that will produce large OLED panels. Amount of LCDs that used to be produced at P8 Line, which was between 25,000 and 26,000 sheets per month, will be produced at its facility in Guangzhou. Its strategy is to increase only the amount of OLEDs that are produced while maintaining production of overall LCDs.
Major goal of this newly-extended facility is to secure production capability of additional 25,000 to 26,000 sheets per month and total of $391 million (460 billion KRW) was invested into this facility.
Currently LG Display is able to produce 34,000 OLED panels for TVs per month. By the time when this extension is finished at the end of next year, it will be able to secure a production capability of 59,000 to 60,000 sheets per month. Considering the fact that yields of OLED panels increase every year, output of 55-inch and 65-inch panels in 2017 will be twice as much of this year's output.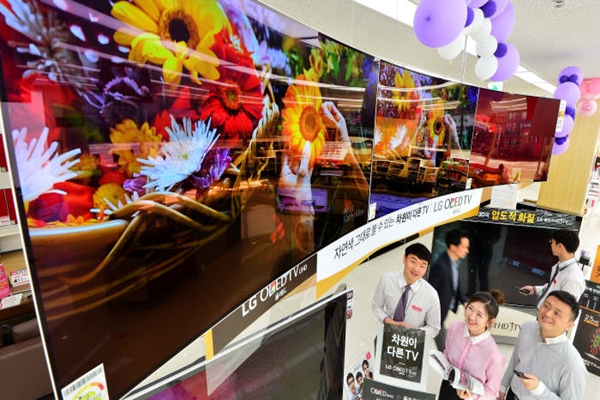 LG Display has also started additional investments into flexible OLEDs that are worth $263 million (310 billion KRW). It recently signed off on a contract with ICD that is worth $15.9 million (18.7 billion KRW) and it also signed off on contracts with Invenia and Jusung Engineering Co., Ltd. that are worth $27.1 million (31.9 billion KRW) and $17.8 million (20.9 billion KRW) respectively regarding supply of equipment.
LG Display has decided to invest into E5 Line, which is a 6th generation flexible OLED line, by investing total of $892 million (1.05 trillion KRW) in July of last year. Although it was preparing a line that will produce about 4,000 sheets per month, it has decided to increase that number to 7,500 sheets by investing $263 million (310 billion KRW). It is also preparing OLED lines for lights by investing $127 million (150 billion KRW) separately.
South Korean businesses will be providing organic evaporation equipment, which is major front-end equipment for producing flexible OLEDs. SUNIK System was chosen as the supplier of organic evaporation equipment and it is heard that YAS will be providing evaporation equipment for OLED lines for lights.
LG Display is planning to invest between $3.4billion to $4.24 billion (4 trillion KRW and 5 trillion KRW) in this year and this amount includes cost that is necessary to construct P10 facility that is being built in Paju. Starting from second quarter of 2018 when P10 is expected to be finished with construction, LG Display will then start investing into small and large OLED panels.
As LG Display is ordering equipment for its lines, it is possible that related equipment and material providers might be able to expand their businesses. Beside of Viatron that supplies heat-treatment equipment, there is a high chance that ENF Technology and SK Materials might participate in this business.
Staff Reporter Bae, Okjin | withok@etnews.com