LG Display is jumping into Edge (curved) OLED display markets for Smartphones and it is predicted that this will break monopolistic structure that was created by Samsung Display. Although its initial supply is small, it is expected to start making its moves once it completes extension of E5, which mass-produces small flexible OLED panels, in next year.
According to an industry on the 19th, LG Display has developed dual-Edge OLED panels that will be supplied to Xiaomi and is going to supply them starting from end of this year.
LG Display is also talking to Huawei about supplying its panels. It is heard that Huawei is thinking about receiving dual-Edge displays from both Samsung Display and LG Display.
"We cannot confirm any information regarding our customers." said a representative for LG Electronics. "We are preparing for development of products and investments to enter small OLED markets."
This is the first time when LG Display is supplying OLEDs for Smartphones to a foreign business. Although it had supplied OLED panels for LG Electronics' G Flex 2, which has top and bottom bent, it was not a meaningful business as G Flex 2 is not a representative model for LG Electronics and supply was too small.
By supplying dual-Edge panels to Xiaomi, LG Display is looking to expand its influence in OLED panel markets for Smartphones. Currently LG Display's 4.5th generation L2 line, which produces small OLED panels, can produce about 14,000 panels per month. If extension of E2 line is considered, it can increase its production capability up to 22,000 panels per month. 6th generation E5 line, which is being prepared to start mass-producing in first quarter of next year, can produce about 7,500 flexible OLEDs per month.
However this amount is still too small for LG Display to catch up to Samsung Display. Size of mother-glass and production capability is too small compared to Samsung Display.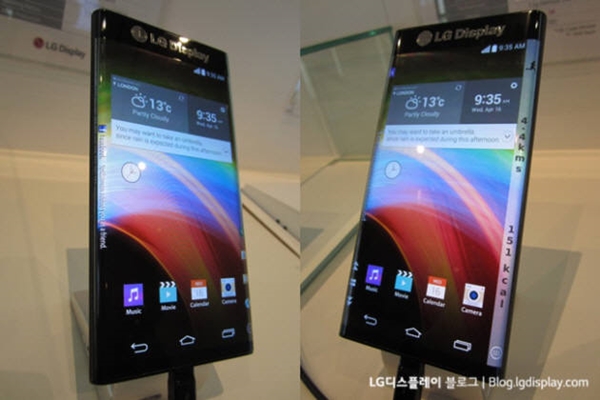 Samsung Display, which already has occupied small OLED markets globally with Smartphones in the center, can produce about 16,000 panels from its 5.5th generation A2 line. By making additional investments into flexible OLED lines at the end of last year, it now has total production capability of 32,000 panels per month just from A2 line based on first quarter of this year.
Samsung Display is making second step of investments towards 6th A3 line that can currently produce 15,000 panels per month. When second step is finished, A3 line will have production capability that can produce at least 45,000 panels per month. Its production capability is far superior compared to LG Display.
Industries are also interested on how much sense of immersion without bezel has been maximized as both businesses have maximized curvature of their Dual-Edge panels. Although Samsung Display's first Edge display only had curvature on one side, its panel for Galaxy S7 is a Quad-Edge panel that has all 4 sides bent. It can implement a curvature that naturally connects towards outside as different curvatures are applied to left-side and right-side of panels. Samsung Display applied gradual curvature to top and bottom of Quad-Edge panel to create an effect that makes it look like it does not have bezel overall.
"Although Edge Smartphone first appeared in markets through Samsung Electronics' HW, it will be hard for Samsung Electronics to keep its monopolistic differentiation once all of its competitors in Smartphones and panels appear in markets." said a representative for an industry. "Although it will be hard for Chinese Smartphone manufacturers to put out Edge Smartphone as their main model as this will be a first challenge for them, focus is on how actively they will choose Edge panels from now on."
Staff Reporter Bae, Okjin | withok@etnews.com