Samsung Electronics and LG Electronics showed off their technical skills in UHD broadcasting worldwide.

Samsung Electronics introduced next-generation UHD technology that is based on ATSC 3.0, which is a standard for UHD ground wave programs in the U.S., at NAB 2016 that is the world's biggest broadcasting equipment exhibition that was held in Las Vegas. Samsung Electronics demonstrated entire process of having videos that are recorded at UHD resolution sent in real-time after a process of encoding and being received by Samsung Electronics' SUHD TV. Samsung Electronics had worked with MBC, ETRI (Electronics and Telecommunications Research Institute), DS Broadcast, and Kai-media to develop this technology.

Samsung Electronics also demonstrated a technology that is needed to broadcast sports events live in real-time. This technology is a MTT (MPEG Media Transport) that quickly streams huge broadcasting signals after diving them into packets.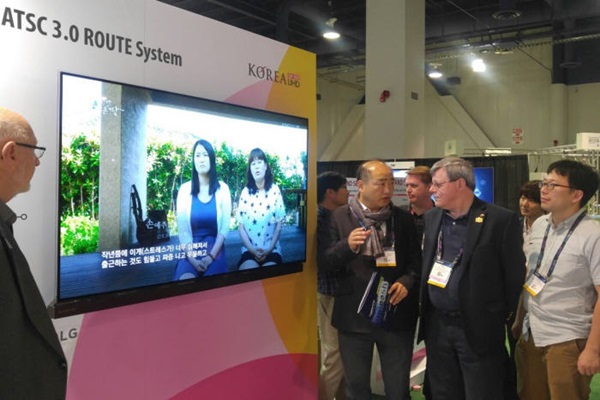 Samsung Electronics also implemented variety of services that are appropriate for UHD broadcasting. EPG (Electronic Program Guide) service that allows consumers to enjoy whichever method that they want to use such as replay of past programs also received attention. It also introduced a technology that allows consumers to easily watch UHD broadcasting programs that have large capacity through VoD (Video on Demand) method whenever they want by transporting them during dawn when TVs are generally not watched.

LG Electronics introduced a TV that has a ATSC 3.0 receiver chip built in. This allows consumers to enjoy UHD ground wave programs in real-time without a set-up box. LG Electronics demonstrated UHD broadcasting by utilizing transmitting towers from NAB (National Association of Broadcasters) and Sinclair. ROUTE, which is a IP-based technology that transports programs, also drew attention. Because it can store much information into ground wave signals, variety of added services can be used without having to connect TVs to internet.

It is predicted that competition for standards of UHD ground wave programs will be pushed forward if major South Korean businesses preoccupy UHD technologies that are based on ATSC 3.0. As ATSC 3.0, which is a North American method, is likely to become standards for UHD ground wave programs, broadcasting equipment industries that are associated with it have no choice but to develop appropriate technologies and release products. Because DVB, which is a group responsible for European broadcasting standards, is planning to establish standards for 4K UHD, competition with ATSC 3.0 is going to be inevitable.

"Because only South Korea, U.S., and Mexico use ATSC 3.0, cooperation for expanding such market has become more important." said LG Electronics. "To secure leadership in broadcasting equipment market, we need to have competitive edge that is different from European method."

Las Vegas, U.S. = Staff Reporter Kwon, Dongjoon | djkwon@etnews.com