Samsung Electronics has surpassed 'unbreakable barrier' of D-RAM fine processing technology and started mass-producing 10-nano range D-RAM for the first time in the world. Other domestic and foreign competitors have yet to raise their front-end 20-nano D-RAM as major processes. As Samsung Electronics is starting to mass-produce 10-nano range D-RAM, experts believe that difference in gap in technology between Samsung Electronics and Micron from the U.S. has widened by more than 2 years. Although price of D-RAM is continuing to make downward trend due to de-growth of demands for PCs and slow growth of Smartphone businesses, Samsung Electronics is expected to record profit ratio that is far superior than its competitors by reducing production cost that is done by converting processes.

According to industry on the 27th, Samsung Electronics has recently started mass-producing D-RAM that has width of circuit of 18 nanometer. This D-RAM is widely used D-RAM that will be installed in PCs early on. Samsung Electronics had passed characteristic test of major customers and already finished supplying particular supplies.

By increasing proportion of 18-nano D-RAM slowly, Samsung Electronics is going to start producing D-RAMs for servers and mobiles that have high added values. To increase proportion, Samsung Electronics is planning to place order for production equipment from its domestic and foreign partners shortly. Some partners already received orders verbally from Samsung Electronics and have started producing production equipment. If orders are made by summer, production equipment will be supplied and installed in late second half of this year. This means that process of ramping up production amount of 18-nano D-RAM will start after summer.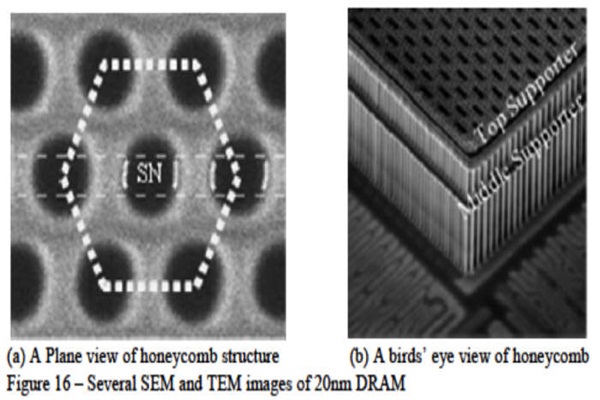 Mass production of 10-nano range D-RAM, which is finer than 20-nano, is seen as 'unbreakable barrier' between experts from this industry. D-RAM saves electric charge in capacitor that is located on a memory cell and recognizes difference between 0 and 1 through this. However as process becomes more finer, it is more difficult to hold capacity of capacitor since area of cell becomes smaller. If area becomes smaller, vertical length of circular capacitor needs to be increased. When this is done, a problem of having capacitor collapsing can occur. Besides holding capacity of capacitor, increase of noise due to narrower distance of capacitor, tunneling of electric charge, and difficulty regarding exposure patterning are also other tasks that need to be solved.

It is heard that Samsung Electronics' Memory Business Department upgraded many technologies that were used in mass-production of 20-nano D-RAM and applied them to 18-nano D-RAM. By innovating structure of a cell, Samsung Electronics applied technology of formation of ultra-fine dielectric layer while saving capacity of capacitor and solved a problem regarding tunneling of electric charge. Samsung Electronics also introduced quadruple patterning technique that carves pattern of a circuit through 3 or 4 patterning. It is heard that Samsung Electronics has made particular concern in security so that early 18-nano D-RAM does not go over to its competitors. "It is heard that Samsung Electronics has made special requests regarding this to its customers that received 18-nano D-RAM." said a representative for this industry.

As Samsung Electronics is starting to mass-produce 18-nano D-RAM, difference in competitive edge of production cost with its customers will widen greatly. When there is a worst situation where price of D-RAM is continuing to fall, Samsung Electronics can make profits while its competitors are making losses.

SK Hynix is currently increasing proportion of early-end 20-nano process and is developing 1x-nano D-RAM. It is heard that Micron has yet to mass-produce early-end 20-nano D-RAM.

"By looking at results, one can see that difference in technology between South Korean businesses and Micron is significantly huge." said Kim Kyung-min who is a researcher for Daishin Securities Co. Ltd. Experts are saying that difference in D-RAM technology between Samsung Electronics and Micron has widened by more than 2 years. Micron is currently at a situation where it needs to worry about losses immediately.

Staff Reporter Han, Juyeop | powerusr@etnews.com