Virtual Reality (VR) service has brought. There are many voices that South Korea should preoccupy VR ecosystem because it has excellent competitive edge in manufacturing of VR devices and service. South Korea needs to collect comprehensive strategies that cover all VR ecosystem from VR cameras, software that is able synthesize images, and contents.

VR paradigms that were presented by South Korean businesses such as Samsung Electronics, LG Electronics and others at MWC 2016 that was held in Barcelona on the 22nd have emerged as a new agenda in global household appliances industry.

Samsung Electronics, which released Galaxy S7, had led VR atmosphere by emphasizing linkage between Gear VR and Galaxy S7. CEO Mark Zuckerberg of Facebook had built up atmosphere of VR by appearing at unpack show and saying that VR is the next-generation platform. Samsung Electronics had lit fire in competition by releasing 'Gear 360' that is able to take VR pictures and record VR videos.

By introducing innovative products called G5 and LG Friends, LG Electronics had released VR glasses 'LG 360 VR' that is for mobile devices and VR camera 'LG 360 CAM'. LG Electronics emphasized their portability by greatly reducing weight and size. LG Electronics had fueled competition even more by criticizing other businesses' products' sizes at unpack show.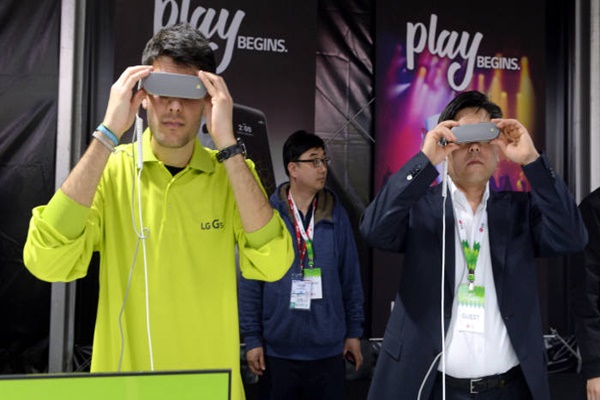 Mooovr, which is a small South Korean business, had presented VR camera called 'Mooovrig' that is for professionals. Mooovr, which is co-participating this even with KT, had introduced excellent image quality while being cost-efficient. It was recognized for its technical skills by filming VR images of demonstration of KT's 5G communication and Samsung's demonstration of Gear VR. SK Telecom had set up a space, which is in a form of submarine, where people can experience VR. In this submarine, it had shown videos of exploration of sea depths.

Representatives for global industries that had attended MWC 2016 all say that South Korea needs to work on preoccupying global VR ecosystem. Most of companies that are responsible for 'camera manufacturing – filming- synthesis of images – service – devices' value chain which forms VR ecosystem. South Korea has world's best competitive edge in service and device areas that play important roles in expanding markets. If South Korea just prepares an environment that is needed to manufacture contents, it will be able to preoccupy global VR markets that are about to open.

"Excluding certain software and professional products, South Korea has technical skills that do not fall behind of any other VR products." said a representative for VR industry. "If it is able to supplement any weaknesses and mass-produce contents, South Korea can expect 'K-VR' trend."

Staff Reporter Kim, Yongjoo | kyj@etnews.com