TV and Audio Business Departments to Be under Direct Control of Head Director of Headquarters
LG Electronics' Home Entertainment (HE) Headquarters carried out reorganization that strengthens power of head director of business headquarters. Positions for department managers for TV and monitor business and audio business will be left vacant and they will be directly managed by head director of headquarters. This is second 'Big Business Manager' system that has occurred after Mobile Communications (MC) Business Headquarters had carried out a same system before.

According to LG Electronics on the 11th, Executive Directors Lee In-kyu and Min Byung-hoon who were serving as department managers for TV and Monitor Business and Convergence Audio Video (CAV) Business until last year respectively, moved to become head of Japan Branch and person in charge of B2B Solution Development in December respectively. It was a move to strengthen B2B and Japanese TV business that puts out OLED (organic light-emitting diode) TVs.

Next department managers will not be chosen, but instead those positions will be directly managed by Head Director (Vice-President) Kwon Bong-seok of HE Business Headquarters. This choice was made to strengthen power of head director and to introduce faster decision-making system. Monitor and PC will be pulled out of this system, and Jang Ik-hwan will be in charge of these businesses.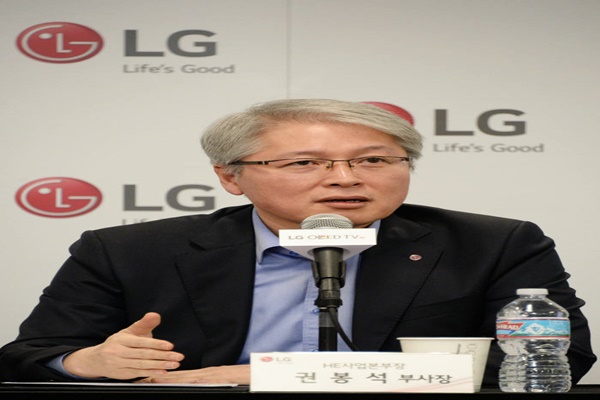 Increase in power of head director has a same context as when responsibility of management per headquarters became stronger through reorganization last year as Head Director (President) Cho Sung-jin of Home Appliance & Air Solution (H&A) Business Headquarters and Head Director (President) Cho Jun-ho of MC Business Headquarters became CEOs.

Information Display Business Department, which is in charge of industrial displays such as digital signage and others, will continuously be run by Vice-President Kwon Soon-hwang. Looking at HE Business Headquarters, it has become a structure where B2C is ran by Head Director Kwon Bong-seok and B2B is ran by Department Manager Kwon Soon-hwang. Executive Director Hwang jung-hwan, who used to be in charge of TV ED, has become the manager of HE Research Institute.

LG Electronics' MC Business Headquarters already adopted and is currently being operated under 'Big Business Manager' system. Head Director will directly control development, product planning and sales without any help from department managers. On the other hand, H&A and Vehicle Components (VC) Business Headquarters will maintain 'Department Managers' system just like before.

"Big Business Manager' system was introduced to strengthen profitability and to make fast decision-makings." said a high-ranking executive from LG Electronics. "It is expected that responses towards markets such as co-marketing and technology convergence between TV and CAV will become much easier."

Staff Reporter Seo, Hyeongseok | hsseo@etnews.com