Samsung Electronics is going to release Galaxy S7 in 5.2-inch and 5.5-inch and it can be seen as Samsung Electronics' response towards Apple releasing iPhone 6 Plus as a derivative model for iPhone 6 series.

Galaxy S7, which is currently being developed under a project name called 'HERO', will be mass-produced starting from February of 2016 and its release date will be around that time too.

According to industries on the 27th, Samsung Electronics is currently working on both 'HERO1' and 'HERO2' projects. These are two different forms of Galaxy S7 that have different screen sizes and shape.

'HERO1' has 5.2-inch flat display while 'HERO2' has 5.5-inch edge display. Edge indicates a display that has left and right side of screen bent.

Samsung Electronics put out flat and curved displays when it released Galaxy S7 last year. Both screen sizes for Galaxy S6 and Galaxy S6 Edge were the same at 5.1-inch.

However this formality was broken by Galaxy S7. Not only is Samsung Electronics is preparing different shapes (flat, edge) of display, it is also preparing different screen sizes (5.2-inch, 5.5-inch). Screen size for basic-type will also be 0.1 inch bigger than previous Galaxy S6.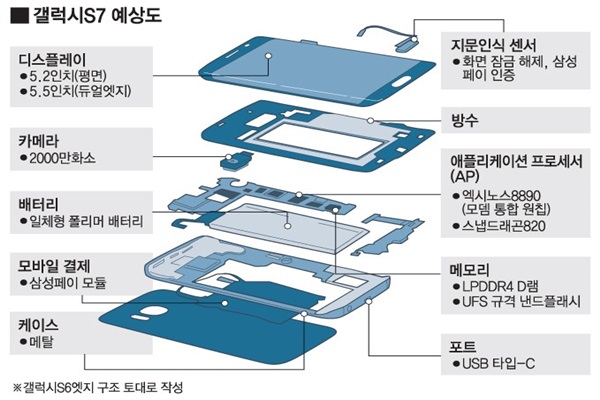 This approach is similar to that of Apple's approach when it released iPhone 6 in 4.7-inch (iPhone 6) and 5.5-inch (iPhone 6 Plus) last year. "Samsung Electronics is preparing for two-track strategy to approach premium phone market more in detail." said a person from this industry.

Samsung Electronics is focusing on increase in sales of premium phones. It is important for Samsung Electronics to increase sales volume of Smartrphones, which are expensive, to strengthen its profitability.

According to industries, Samsung Electronics is planning to finish development of Galaxy S7 by January of 2016 and start mass-production starting from February. It is heard that size of initial production will be about 5 million where 3.3 million will be Galaxy S7 and 1.6 million will be Galaxy S7 Edge.

Including Smartphones, Samsung Electronics is world's biggest cellphone business that is selling about 400 million phones yearly. It sold 393 million phones by 3rd quarter of 2015.

It is known that Samsung Electronics will try to sell about 400 million phones in 2016. Its number of target is similar or bit smaller than this year's value. Industries are focusing on whether or not Samsung Electronics can break through Smartphone markets where they are very saturated and this is why focuses are on Galaxy S7, which is a new application Smartphone, that will first start go against other businesses' Smartphones this upcoming new year.

Regarding this, a person associated with Samsung Electronics said that no specifications and business plans regarding new products cannot be told.

Staff Reporter Yun, Kunil | benyun@etnews.com & Staff Reporter Kim, Changwook | monocle@etnews.com