Samsung Electronics set up an independent PC business team in just 3 years because PCs still hold up as major IT products since it is a fading business. Due to this, it seems that operation rate for PC production factories in Suzhou in China will also increase. As Samsung Electronics is planning to bring back its PC business, domestic and foreign partners for PC parts showed their expectations by adjusting their business goals for next year upward.

According to industries on the 13th, Samsung Electronics established 'PC Business Team' within its Wireless Business Department after gathering PC development, design and marketing employees who were scattered throughout IT & Mobile (IM) Sector. Executive Director Choi Young-kyu of Wireless Business Department will become the team leader of PC Business Team. He was a person who was the team leader of PC Development Team when IT Solution Business Department was running in the past and he also developed many popular products such as Series 9 and others.

Microsoft and foreign parts businesses such as Intel, AMD, and Nvidia and others that supply CPU, GPU Chips to Samsung Electronics were notified of such information in October. Samsung Group's affiliates such as Samsung Electronics' Device Solution (DS) Sector's Memory Business Department, Samsung Display (display), Samsung Electro-mechanics Co., Ltd. (board), and Samsung SDI (battery) will also focus on reorganization of group.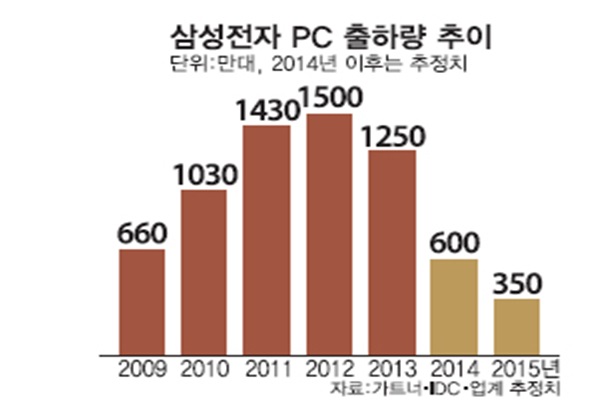 New PC Business Team will hire additional employees by end o this year and will reorganize product lines with a thought of releasing products in second half of 2016. It will also newly develop premium PCs that will become the sign of all products and will lay out its strategy for expanding shipment in 3 years from now after organization product lines. However modification on whom will be in charge of tablet business is not decided yet. There is a high chance that PC Business Team will be in charge of products based on Windows OS.

Samsung Electronics' PC business that was almost going to bankrupt rapidly grew between 2009 and 2012. After it went over a hump by shipping 10 million PCs for the first time in 2010, its brand was in the top 10 in industries for the first time. In 2011, it shipped out 14.3 million PCs. While traditionally strong PC businesses such as HP and Dell were growing at an one-digit rate or going through de-growth, Samsung Electronics along with Apple and Lenovo increased their shipments by 20 to 30% every year. Samsung Electronics once presented a blueprint that it will become a top 3 global PC business in 2015.

However its PC business went downhill after IT Solution Business Department disappeared and as PC business was absorbed and combined to Wireless Business Department within IM Sector due to reorganization of group at the end of 2012. After its shipment decreased to 12.5 million in 2012, size of business was further decreased as its shipment decreased even less to 6 million in 2014. It is estimated that this year's shipment will be between 3 and 4 million, and as shipment of PCs has decreased, operation rate for production factories in Suzhou also decreased.

This kind of situation happened because Wireless Business Department, which is centered on Smartphone business, laid out management centered on making profits. Instead of PCs that have small profit ratio, it decided to sell more Tablet PCs. As employees in PC development and design began to spread throughout Wireless Business Department, it could not find a new design. Current Samsung Electronics' laptops are based on designs from 2011 and 2012.

"As new business team is established, speed of decision making will become faster and number of shipment will also increase due to responsible management by business team." said a person associated with Samsung Electronics with expectation.

"Sales for corporate in South Korea will also increase if Samsung Electronics focuses on PC business again." said a person from foreign parts industry. "Headquarters are also showing positive expectations to these kinds of movements."

Staff Reporter Han, Juyeop | powerusr@etnews.com