ETRI (Electronics and Telecommunications Research Institute) made an announcement on the 2nd that it has developed a technology that implements 3D hologram image in red, green, and yellow color on top of tabletop-type digital display system.

Total of 16 businesses and organizations such as LG Display, Silicon Works, Yunam Optics, A Optics, Korea University, Kyungpook National University and others participated in this research.

Research team succeeded in floating rubric cube image, which is in a regular hexahedron form, with a size of 3-inch (7.62 cm) on top of tabletop-type display system, and this image can be seen anywhere from 360°.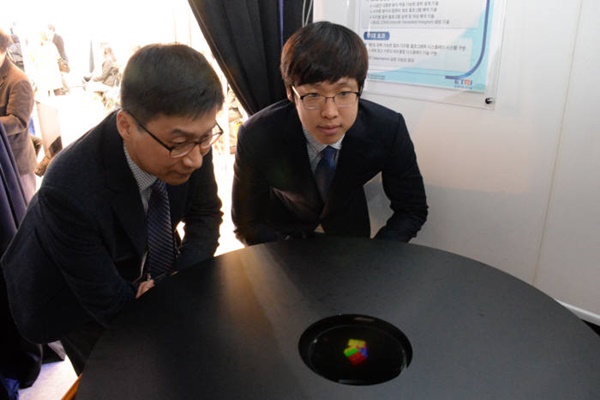 In the past, MIT showed hologram technology with a size of 3.5 x 2.5 cm and radian of 20°. Japan's NICT (National Institute of Information and Communications Technology) was only able to implement a hologram with a size of 6-inch within viewing angle of 6-10°.

ETRI used diffraction phenomena where light bends due to implementation of hologram and interference where 2 lights come together and make a different color.

Some of Pseudo Holograms that make 3D effects through 2D images are currently out in markets.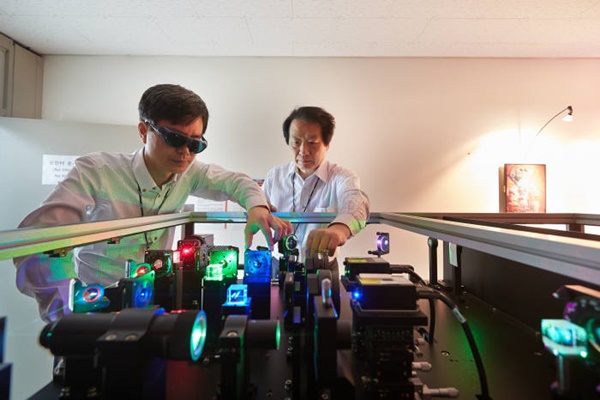 Research team is planning to develop system minimization technology, improve quality of image, and increase size of image for next 5 years hereafter. It is also planning to develop a technology that sends and receives actual holograms through 5G network.

This research is part of Giga KOREA Project 'Digital Holographic Tabletop Terminal Technology Development' that began in 2013.

"We are currently working on R&D with a goal of implementing 10-inch Holo TV by 2021 when Giga KOREA Project ends." said Choo Hyun Gon who is the head of ETRI Digital Holography Institute.

"This is a new attempt to overcome technical limitations that current methods have." said Kim Jin Woong who is the manager of ETRI Broadcast Communication Media Laboratory. "It is meaningful that we greatly made a progress in increasing possibility to implement virtual reality (VR) or holographic broadcasting in the future."

Daejeon = Staff Reporter Park, Heebum | hbpark@etnews.com
<ETRI's Actual Broadcast Media Research Department's Digital Holography's researchers succeeded in implementing 3D hologram that can be seen from 360° at 3-inch height.>