Samsung Electronics Plans to Supply 'Artik' to Global Developers and Manufacturers
Samsung Electronics is planning to mass-produce open-type IoT platform starting from early 2016. Platform was named 'Artik' and it will be sold to global developers and manufacturers. It is predicted that Samsung Electronics will have to compete against Intel's 'Curie' and 'Edison' that were shown to public first in next-generation IoT platform markets.

According to industries on the 15th, Samsung Electronics released beta-version of Artik in early this month and delivered it to few developers and partners and will sell it to uncertain number of various developers starting from early 2016. If wearable and IoT equipment using Artik are released to markets, it will be possible for Samsung Electronics to sell them in bulk to major customers.

According to some people in this industry, couple customers are currently preparing to mass-produce finished products using Artik.

Artik is a hardware development board with Samsung Electronics' System on Chip (SoC), memory, and Connectivity Chip. If these are used, variety of electronic equipment with IoT can be freely made, and Samsung Electronics is planning to create IoT hardware ecosystem with 'Artik'. This is a same strategy as when Google made software ecosystem by distributing 'Android'. As number of 'Artik' users increases, sales volume of Samsung Electronics' semiconductors is increased proportionally. Just like how Google created a huge amount of profit in mobile advertisement markets after making a mobile app ecosystem, Samsung Electronics' groundwork is to conquer semiconductor markets related to IoT by using 'Artik'.

Samsung Electronics' Artik is divided into Artik10, Artik5, and Artik1 based on performance and is provided in an optimized from based on home server, network camera, and SmartBand equipment. Its price is set cheaply between $85.38 and $853.76 (100,000 to 1 million KRW), and Samsung Electronics is expecting that shipment of its chips will increase as Artik development boards widely supplied.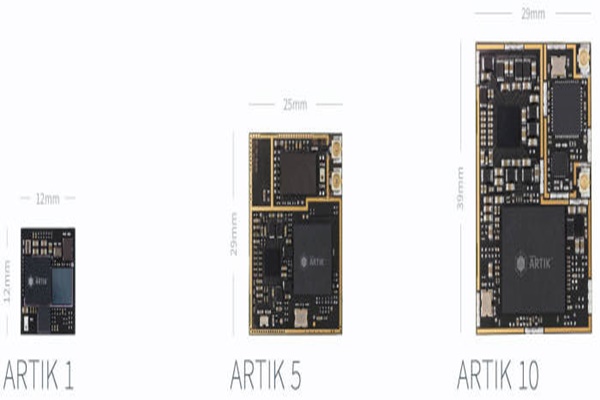 Artik1's characteristics are its lowest electricity consumption in industries and smallest board size (12 x 12 mm). It has MIPS S32 Core-based Micro-Controller (MCU) that operates between 80 and 250 MHz and 1 MB D-RAM. 9-axis sensor that combines gyroscope, acceleration, and geomagnetic sensors is built in, and its communication function supports Bluetooth Low Energy (LE). It is predicted that it will be chosen for light equipment such as SmartBand, and Samsung Electronics is emphasizing that Artik1's board size is smaller than Intel Curie's board size.

Artik5 has SoC with two ARM Cortex A7 Cores that operate on 1 GHz. On top of SoC, 512 MB LPDDR2 D-RAM and 4 GB embedded Multimedia Card (eMMC) are layered in ePoP-form, which is a form to decrease a size. Artik5 supports wireless LAN, Bluetooth, and Bluetooth LE and it is suitable for Home Hub and network camera. Its board size is 29 x 25 mm and it is a development board that competes with Intel's Edison.

Artik10 has Octa-core SoC with 4 ARM Cortex A15 and 4 A7 Cores. Its GPU is ARM Mali T628 MP6, and 2 GB LPDDR3 D-RAM is layered on top of Soc in a form of Package on Package (PoP). Its storage system is 16GB eMMC, and its board size is 29 x 39 mm. It is suitable for Home Server and multimedia player, and Intel is currently not offering this kind of high-performance development board.

"A reason why Samsung Electronics is introducing 'platform' and 'foreign developer ecosystem' concepts into system semiconductor business can be seen as its intention in preoccupying IoT generation that is about to come for the first time." said a person from this industry. "It will have a fierce competition with system semiconductors businesses such as Intel and Texas Instruments (TI) from the U.S. in securing ecosystem."

Staff Reporter Han, Jooyeop | powerusr@etnews.com