Hyundai wiped out its customers' worries about different in safety level between domestic cars and cars that are to be exported. It was able to prove that they have same level of safety by publicly colliding domestic Sonata and Sonata that is to be exported head-on. By doing so, it decided to actively block off any other similar controversies about discrimination by building up its ways of communication with customers.

Hyundai did a collision test between domestic Sonata and Sonata that is to be exported by inviting 300 customers to Songdo Downtown Circuit in Songdo-dong in evening of 22nd. This event was prepared as a surprise event during the main event that commemorated 30 years of Sonata. This event was done outside in 'live' without being able to regulate any conditions of this test and not notifying any customers who were invited to this event.

This test was done by mutually colliding same type of cars, in this case Sonata 2.0 Turbo in which one was produced at a factory in Alabama and another one was produced at a factory in Asan. These two cars collided head-on in the middle while being driven at 56 km/h by facing each other. Because these cars collided while being driven by facing each other, actual colliding speed easily goes over 100 km/h.

After collision, they were at a condition where one could not tell their shapes because their front hoods and more than half of engine rooms were damaged. There were different types of oil leaking out of the cars to ground. However boarding spaces behind A-fillers were not damaged. A-fillers are frame parts between front window and 1st line of side window and they have crucial impacts on passengers' safeties during an accident depending on whether or not they were damaged.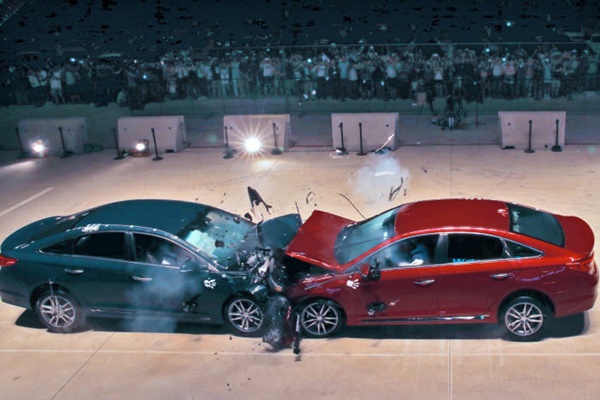 If A-fillers are crushed, impact from an accident is sent all the way to boarding space passing engine room. On the other hand if A-fillers are not crushed, transmission of impact can be minimized and this can secure passengers' safeties.

Drivers' and passengers' airbags including knee airbags of both cars were both normally unfolded. Opening and shutting of doors, which are crucial in helping passengers to escape from a car during an accident, also worked normally during this event. Exterior damages were equally examined from both cars, and this proves that both cars have same level of safeties.

Level of injuries of dummies that were inside the cars were calculated equally as well. Both of them received numbers that can get 'excellent' standard from Korea-New Car Assessment Program (K-NCAP) of Ministry of Land, Infrastructure and Transport (MOLIT). Both of dummies received 6 points from head and neck, 6 points from chest, and 4 points from upper legs in total of 16 points.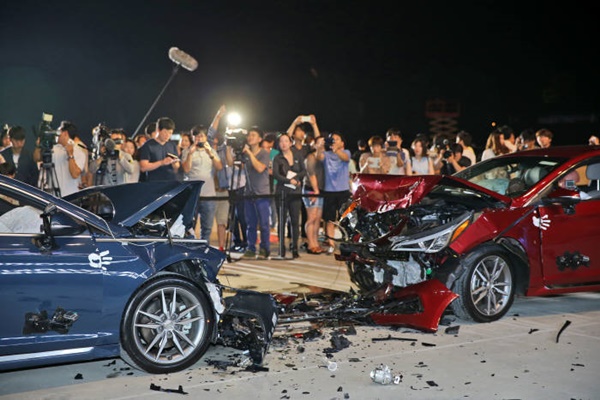 Because head-on collision between two cars is not an item in official testing, head-on collision evaluation points from K-NCAP were randomly applied. Condition for both cars was equal as there were male dummies in driver's seats and female dummies in passenger's seats. However K-NCAP's head-on collision evaluation has a test car colliding against fixed wall instead of an incoming car.

Cars that were used in this test were randomly selected by 'Madaebbaduh', which is a professional automobile blogger, and Professor Kim PilSoo from Daelim University's Automobile Department. Professor Kim chose a car from car sales store in Los Angeles, and Madaebbaduh chose a car from factory in Asan.

This event received more attention because Professor Kim is known to be critical of Hyundai cars. However he evaluated purpose of this test and results optimistically.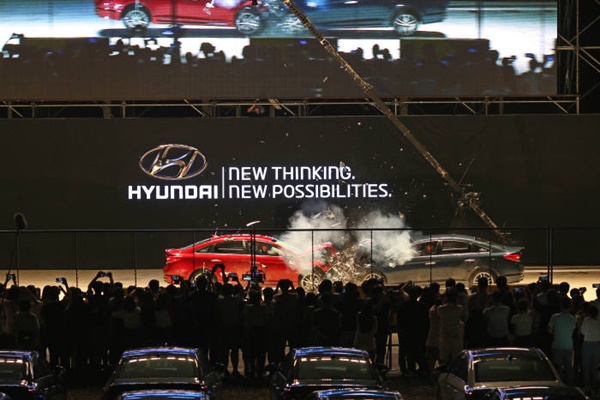 "From a perspective of automobile manufacturers, this test is a test that should not be done because conditions of test could not be controlled and plans were very dangerous. This test shows confidence and urgency of Hyundai and it also proves same level of safeties between two cars by examining A-fillers, doors, and airbags." said Professor Kim.

"Although I knew that Hyundai showed much concern about safety by increasing the importance of high tensile steel plates, I did not know that it actually does this kind of this in real life. Although I thought that there was different in level of safety between domestic cars and cars that were to be exported, my view changed after this event." said a person whose last name is Kwon and attended this event.

Hyundai is planning to keep on do its best in resolving misunderstanding by building up communication with its customers.

"I never felt deeply moved and proud like today ever since I started working here." said Director (Vice-President) Kwan Jin of Hyundai's Domestic Business Head Quarter. "We are going to continually build up relationship with customers and actively resolve unnecessary misunderstandings."

Staff Reporter Song, Junyoung | songjy@etnews.com