A Generation where GiGA speed Internet is used through a copper landline is starting. It is predicted that this technology is rapidly developing due to preparation of standard for global technologies.

It is forecasted that Very-high-bit-rate Digital Subscriber Line (VDSL) service, which takes up 9% of all internet subscribers, will be changed rapidly. It is also predicted that GiGA Korea that Korea is pushing for will also speed up. One can hope for economy effects such as communication equipments worth about 90 million dollars (100 billion KRW), formation of service market, exports, and etc.

Telecommunications Technology Association (TTA) chose 'ITU-T Recommended G.996X-Based Copper Wire Transmission Technology for Supply of GiGA Internet' standard at Standardization Assembly that was held on the 23rd. Also known as 'GiGA Wire Transmission Technology', this technology replaces VDSL using a phone line and produce GiGA-level 9more than 600 Mbps) internet service. Current GiGa internet is servicing two products: 1 Gbps and 500 Mbps.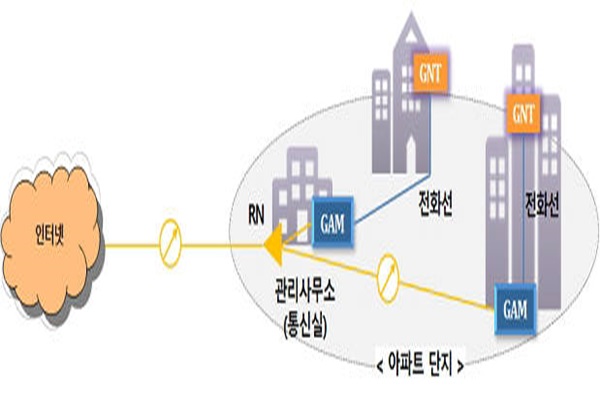 KT and communication equipment business called Ubiquoss developed world's first ITU standard-based GiGA Wire transmission technology to upgrade KT's 1.3 million VDSL services. Its important features are its high-performance subscriber line specialized technology that can supply GiGA Internet through a phone line and its equipments (GAM, GNT).

GAM is a network system that eases confusion in an environment where there are many neighboring phone lines and connects those lines to subscriber line equipment, and GNT is a modem that is installed in a household. One needs to only change current VDSL equipments (DSLAM, Modem) with GiGA Wire equipments (GAM, GNT).

There are 1.73 million VDSL subscribers (9% of all internet subscribers) in Korea. Because VDSL can only produce speed at maximum of 200 Mbps (sum of upward and download), it is slower than Fiber To The Home (FTTH) or Optic LAN and it is hard to offer high-quality service like IPTV. On the other hand, GiGA Wire supports speed of more than 600 Mbps including both upward and downward and can offer high-quality service and UHD TV service.

After researching for about a year, KT succeeded in developing and commercializing this technology in latter half of last year. It applied this technology into its commercialization network starting from last March after receiving a temporary approval from the government. GiGA-level internet service is now possible for areas or buildings that were excluded from GiGA Internet service due to various circumstances. KT is expecting that it will cut more than 30% of installation cost compared to Optic LAN.

Base where relevant technology can be expanded to other businesses due to a choice of standards, is now prepared. It is predicted that communication carriers and relevant equipment businesses will also start development process. LG Uplus started its test evaluation of equipments, and some cable businesses are also considering introducing this technology.

It is expected that new communication equipment market worth of 362 million dollars (400 billion KRW) and service market worth of 60 million dollars (66 billion KRW) will be formed that can replace current VDSL system. This technology won't have any problems with being exported into foreign countries because it was developed on international standards. It is predicted that export of Korea's technologies and equipments will be possible to ADSL and VDSL markets that are being used by 400 million subscribers globally being the targets.

Government's GiGA Korea Strategy also received a bounce. Government included its plan to raise GiGA Internet coverage which is currently about 45% to 90% by 2017, to government project. Coverage is those environments that can offer when subscribers requested GiGA Internet service, and VDSL was an obstacle to GiGA Korea.

"It is hard to replace a phone line with Optic LAN in old apartments or places that are not wanted. It is predicted that subscriber's convenience will increase and relevant industry will vitalize by supplying GiGA Internet while using a phone line as it is." Researcher Jung Yoon Taek of KT said about what GiGA Internet will bring to the industry.

Staff Reporter An, Hocheon | hcan@etnews.com