It is finalized that formal name of 5G mobile communication will be called 'IMT-2020'. It can reach max speed of 20 Gbps that is 20 times faster than 4G, and frequency will be distributed in 2019, and 5G will be globally standardized in 2020.

At ITU's ITU-R WP5D conference that was held in San Diego from the 10th till the 18th of June, ITU provided a blueprint that has 5G's name and requirements for core functions. It also agreed on a standardized schedule that will materialize all of these decisions by 2020.

'IMT-2020' and 'IMT-2020 Connect' competed for 5G's name, and in the end 'IMT-2020' was chosen because it was preferred by many countries and businesses. It will be passed on through 193 countries that are members under ITU and will be finalized at RA which is affiliated with ITU and held in Geneva. Formal name for 3G and 4G are 'IMT-2000' and 'IMT-Advanced' respectively.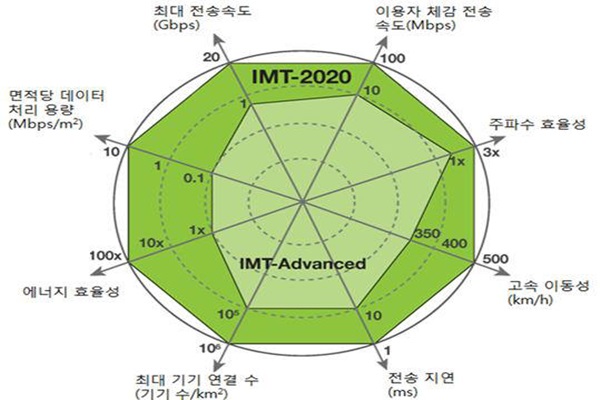 Core functions including its maximum speed of 20 Gbps were also introduced. This speed can download 25 GB UHD movie in just 10 seconds. It provides 1 million equipments' IoT services that are within 1 km2, and people can share and receive data at speed that is more than 100 Mbps at anywhere within base station.

ITU targeted 2020 as commercialization of 5G and set up a schedule to standardize 5G's back up technologies starting from 2017. At 2018 Winter Olympics in Pyeongchang which will be held in Korea, Korea can demonstrate 5G's back up technologies' services as the world's first. It is hoped that Korea will play a leading role in standardizing it globally.

Delegation that is comprised of 12 people from Ministry of Science, ICT, and Future Planning (MSIP), Korea Radio Research Agency, academic circle, and industrial circle joined this conference to discuss regarding 5G. Technical report that uses high frequency bandwidth more than 6 GHz was finished with Korea leading the role.

Delegation was able to bring out sympathy from other countries regarding the need to distribute high frequency at WRC-19 which will happen in 2019. If bandwidth more than 6 GHz is used, one can use high-speed broadband service by focusing on hot spot location. This can solve traffic congestion that usually happens in busy area of cities such as in subways and department stores.

ITU is announcing international IMT frequency by revising radio regulation at WRC. Korea is going to bring up research regarding frequency at WRC-15 meeting in November and APT WRC meeting which will happen in Korea in July.

"Fact that schedule for 5G's standardization was settled on the basis of Korea's proposal proves that Korea is leading in world's mobile communications' technologies and policies. We are going to accelerate in supporting the development of technologies so that Korea's technologies get applied on 5G's standardization." A person affiliated with MSIP said about what it will do to continually support Korea's development of technologies.

Group responsible for global standardization called 3GPP prepared a timeline in March that details the schedule for research of 5G's standards. 3GPP is going to make 5G technologies and standards that ITU will approve. Global movements towards 5G are speeding up day by day.

■Comparison between functions of 4G and 5G

• Maximum transmission speed for 4G and 5G are 1 Gbps and 20 Gbps respectively.

• Actual speed that a user feels for 4G and 5G are 10 Mbps and 100~1000 Mbps respectively.

• Efficiency in frequency for 5G is 3 times better than 4G.

• High-speed movement for 4G and 5G are 350 km/h and 500 km/h respectively.

• Transmission delay for 4G and 5G are 10 ms and 1 ms respectively.

• Maximum number of equipments that can be connected for 4G and 5G are 105/km2 and 106/km2 respectively

• Efficiency in energy for 5G is 100 times better than 4G.

• Data processing capacity per area for 4G and 5G are 0.1 Mbps/m2 and 10 Mbps/m2 respectively.



Staff Reporter An, Hochun | hcan@etnews.com