KT was successful in becoming world's first to commercialize 'wireless 1 Gbps'. It's based on Multi-Path Transmission Control Protocol (MP TCP) that connects LTE and Wi-Fi network into one and it provides a service that is 15.6 times faster compared to current LTE. Because it can provide Gb-level mobile internet service, it is assessed that 'Wire-Wireless Giga Generation' has been pioneered. Leadership of Chairman Hwang Chang Kyu of KT, who announced GiGAtopia in May, also received attention.

KT announced 'Giga LTE' service on the 15th, which converge 3-Band Carrier Aggregation (CA) LTE and Giga Wi-Fi into one, at a meeting with reporters that occurred at its office building in Gwanghwamun in Seoul. (Refer to the first page of Etnews that was released on the 12th)

"We are showing world's first Giga LTE, which is an essential technology for 5G communication, in 3 years advance. General customers can use it starting from the 16th." Vice-President Oh Sung Mok of KT's Network Department said who can use Giga LTE and why Giga LTE is important.

MP TCP that has been co-developed by KT and Samsung Electronics since last September was applied on Giga LTE. It can provide maximum speed of 1.17 Gbps by adding 300 Mbps of 3-Band CA and 867 Mbps of Giga Wi-Fi, and it is 4 times and 15 times faster than 3-Band CA and LTE respectively. This speed can download a UHD movie with 18 GB in 126 seconds. This is a reason why it is considered as a stepping stone to 5G that needs 100 Gbps, and this service can be used in 300,000 KT's Wi-Fi zones in Korea.

During a demonstration at a press conference, Smartphones showed maximum speed of 835 Mbps and average speed of 600~700 Mbps.

Giga LTE service is first applied on Samsung Electronics' Galaxy S6 and Galaxy S6 Edge, and it can be used through firmware update that will start progressing from the 16th. Customers can just switch their Smartphones' internet connection to 'Giga LTE'. As of right now KT is only providing this service to customers who use unlimited data service such as 'Data 599' or above. They decided not to deduct data from Giga LTE from customers' original data amounts until the end of the year.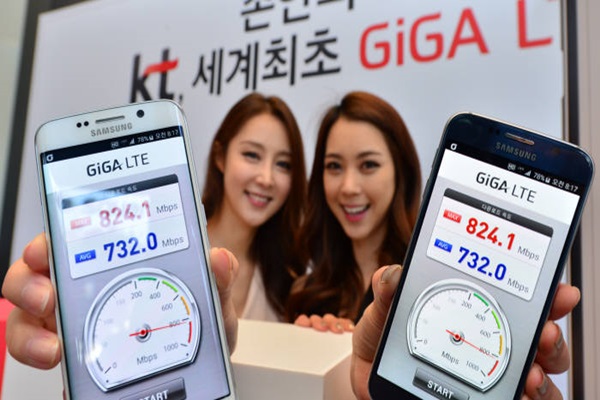 There is a matter of interest in timing of commercialization between 3 mobile carriers as SK Telecom and LG Uplus are also preparing for same technologies as KT. All 3 mobile carriers have taken stances to provide services immediately as Samsung Electronics' firmware update gets completed. There is however a difference between their services. KT is providing all application and services such as IPTV, SNS, games, and streaming. SK Telecom is providing T-Sports and T-Roll, and LG Uplus is providing U-flix movies and U Plus HDTV services.

As KT is opening world's first wireless 1 Giga generation, focuses are now on Chairman Hwang Chang Kyu's leadership who emphasized on GiGAtopia. After he announced fulfillment of GiGAtopia in last May, he was able to succeed in commercializing relative services such as Giga Internet and Giga Wi-Fi Home one after the other. He stressed that 5G network is important in this IoT generation at Mobile World Congress (MWC) 2015 that took place in Barcelona in March.

KT is even more accelerating in its development of 5G by using commercialization of Giga LTE, which is one of core technologies in 5G, as an opportunity. It is especially focusing on using all capabilities available in demonstrating world's first 5G service at Pyeongchang Winter Olympics in 2018.

"As an official partner of Pyeongchang Winter Olympics, it is an advantage for KT to have a test-bed to demonstrate technologies that we developed in our laboratories. We are going to show future technologies by successful demonstrating 5G service at Pyeongchang." Vice-President Oh Sung Mok said with an eager to demonstrate 5G service at Pyeongchang Winter Olympics.

Staff Reporter Kim, Yongjoo | ky.j@etnews.com