Apple is planning to apply nano new material on touch panel. By changing ITO-based clear film with silver nano wire (AgNW) material, it plans to raise sense of touch and decrease cost.국내 은나노와이어 Domestic AgNW based touch-screen panel (TSP) industries are getting ready to commercialize the products as soon as possible.

According to business circle, Apple requested AgnW touch-panel sample that is verified for mass-production from LG Display, Samsung Display, Japan Display, and major display suppliers on the 10th.

"Apple recently requested AgNW touch-panel samples and some enterprises already delivered them to Apple. It will be first applied on large-screen IPad, which will be released next year." Many people who are in the business circle said about their predictions about AgNW.

Because AgNW material is more flexible than previous ITO, it can materialize optimized touch-screen panel onto a flexible display. It will be very easy for a resistive touch method that can change the thickness of a line depending on pressure from a fingertip, which can enable a person to draw a picture more delicate. It became known that Apple will apply resistive-touch function onto their new AgNW film is made by coating silver wire with constant length and thickness, which can be made by using catalyst onto silver salt, onto a PET film.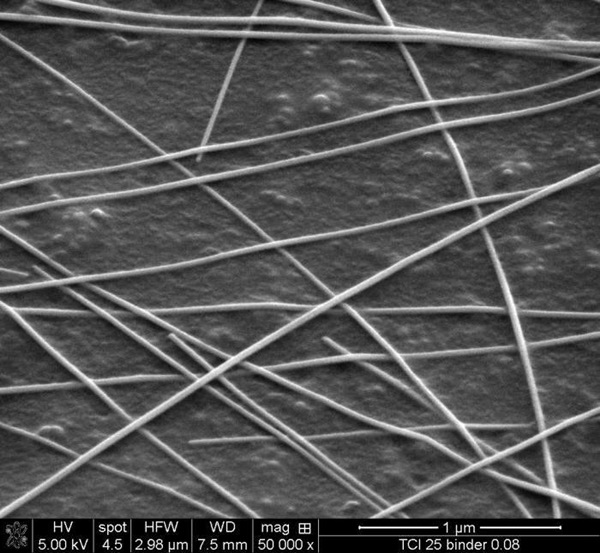 As wire's thickness is thinner and uniform, its visibility and penetration ratio gets better. Although Haze phenomenon, which is a phenomenon where it becomes murky when it is exposed to sunlight was a problem before, it was improved by recent technology developments..

Apple is planning to raise sense of touch, and decrease thickness and production cost of TSP by applying AgNW touch-panel. Compared to making ITO film that requires a coating process, AgNW is a coating method, which can decrease production cost and yield value. It is easy to acquire raw materials because a scarce metal like indium doesn't need to be used. AgNW film can be applied on future flexible display too because electric signal doesn't get lost even if it is bent or snapped since it is in a wire-form.

Small-sized mass production began as Enh, Nanopyxis, and some small to medium-sized enterprises were successful on developing AgNW film-based TSP. Out of major enterprises, LG Electronics began mass-production by acquiring individual production system. Samsung Display is developing Samsung SDI and AgNW TSP at the same time.

Apple is examining AgNW touch-panel as well as applying sapphire glass. If thin sapphire glass were to be applied onto a AgNW touch-panel, its thickness and weight will greatly decrease.

"Apple is always looking for an innovation by consistently changing materials. If AgNW TSP were to be commercialized next year, domestic Smartphone industries will also have to hurry their application of new materials." A person in a business circle said about what effects of new materials will bring to this industry.

Staff Reporter, Sung Hyunhee | sunghh@etnews.com