A legal action is taken against AT&T regarding infringement of a South Korean patented technology. This technology is related to "Wi-Fi Calling", which is widely used within the American telecommunications market and it was developed by Professor Cho Dong-ho of KAIST (Korea Advanced Institute of Science and Technology).
This legal action is a rare case of requesting a right to an original South Korean patent from an American telecommunications company and it is expected that the focus will be on whether there will be monetization through a patent litigation.
Estimated equivalent value of the legal action is worth $83.1 million (100 billion KRW). First trial is set to take place at a Texas district court in September.
According to the United States Patent and Trademark Office (USPTO), Texas-based KAIFI that specializes in patent administration filed a legal action against AT&T. KAIFI is a "grandchild" company of a South Korean IP (Intellectual Property) company called Intellectual Discovery and it took over a number of relevant patents from KAIST.
"Wi-Fi Calling" provides wireless telecommunications and wireless calling services through Wi-Fi access. It provides a smooth mobile telephone service indoors where signals are weak and it is seen as a key technology for securing network quality. Not only can it be used for LTE, but it can also be utilized for 5G wireless network environment.
Starting with T-Mobile in 2014, AT&T, Verizon, and Sprint all adopted "Wi-Fi Calling" for their services. Apple also added a feature that supports Wi-Fi Calling into its products.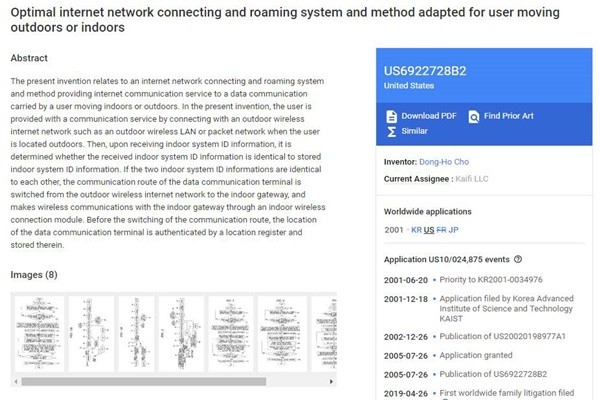 Although South Korean wireless network providers were also thinking about adopting Wi-Fi Calling at that time, they ultimately decided not to adopt Wi-Fi calling because they believed that it would not be much useful in South Korea where there are no blind spots to telecommunications infrastructures.
"Optimal internet network connecting and roaming system and method adapted for users moving outdoors or indoors (US6922728B2)" applied by Professor Choi in 2001 was registered in the USPTO in 2002.
His claim includes the basic concept and system structure of Wi-Fi calling and overall technology for smooth network transition.
There are 48 patent citations that can help estimate the patent's value. Multinational companies such as Apple, Microsoft (MS), Nokia, Motorola, Research in Motion (Blackberry), and SONY all cited the patent in order to develop related telecommunications technologies.
KAIFI seems to have a significant advantage over this legal action as it will not be easy for AT&T to provide that it did not infringe the patent due to its originality.
If KAIFI is able to secure a favorable judgement, it will be possible for KAIFI to file additional legal actions against other wireless network providers such as Verizon and T-Mobile or negotiate on the amount of loyalty.
"KAIST has total administration over the patent." said Professor Cho. "I do not know any other information related to the litigation and there is not much that I can really talk about."
Professor Cho applied for about 510 patents in South Korea and overseas. It is expected that the outcome from the litigation will have a profound impact on Professor Cho's research performance and reevaluation.
Staff Reporter Park, Jungeun | jepark@etnews.com