Samsung Electronics is planning to produce application processors (AP) that will go into 'augmented reality (AR) glasses' that Facebook is currently developing. Facebook has entrusted Samsung Electronics' Foundry Business to be in charge of these APs that will become the backbone of its core business for the future.
Samsung Electronics is currently putting in maximum efforts into promoting its Foundry Business to become the top system semiconductor business in the world by 2030. As it collaborates with a multinational IT company like Facebook, it expects that its Foundry Business will grow much faster.
According to the industry, it is heard that Samsung Electronics and Facebook have decided to work together in producing chips that will be used for AR technology and started on the development phase.
"Samsung Electronics and Facebook have been discussing about this issue since the beginning of this year." said a representative for the industry who is familiar with this issue. "We found out that Samsung Electronics has recently started on the development phase on full-scale."
Just as a Smartphone's AP acts like a 'brain' that calculates and processes various information, Samsung Electronics' AP will collect and process various information that comes into Facebook's AR glasses. Because this AP will be much smaller than an AP that goes into a Smartphone, high degree of technology will be needed to calculate new forms of information.
It is heard that there is a high chance that Samsung Electronics will use 7-nano EUV (Extreme Ultraviolet) process, which is a ultrafine semiconductor manufacturing method, to produce this chip.
It is too early to find out exact amount of supply and timing of mass-production of this AP. Even if Facebook has the architecture of the AP, it will take a long time and huge amount of costs before Samsung Electronics can actually start producing the AP.
"Considering the fact that Samsung Electronics will have to go through many processes, we predict that the timing of mass-production will be sometime in 2021." said a representative for the industry.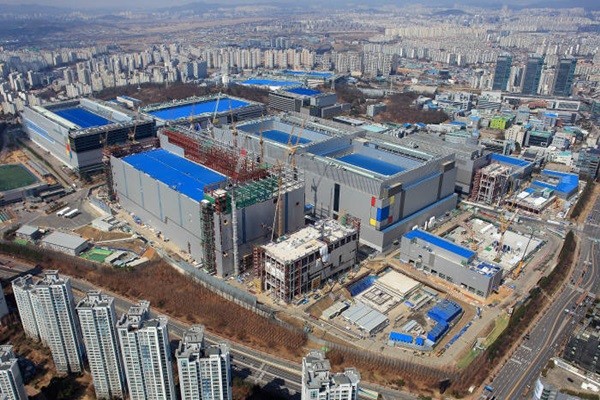 VR and AR are core businesses for Facebook in the future. CEO Mark ZuckerBerg of Facebook's idea is to implement 'no line' world that breaks down the boundary between reality and virtual world.
Facebook chose VR and AR as its next-generation technologies early based on a VR company Oculus that it acquired in 2014 for $2.3 billion. It also introduced its AR platform that was developed on its own technology in 2017. It recently acquired a brain-computing startup company called CTRL-labs and is picking up the speed of its AR business.
AR glasses especially is expected to be an important turning point for Facebook as it starts to focus on hardware (HW) business. Facebook already registered for a patent for the design of its AR glasses and is currently working with Ray-Ban.
"Chip that will be used for our AR glasses will use different energy." said Vice-President Shahriar Rabii of Facebook who is overseeing the design of chips for Facebook. "As a result, this chip needs to require low power."
Some predict that Facebook may release more AR devices based on various forms after it releases its AR glasses.
"AR can be used in countless number of fields." said a representative for the industry. "Aside from AR glasses, it can also be used for mirrors that are placed in shopping centers." This representative also added that Samsung Electronics' image sensor, which is one of its core products, can be used for a camera of the AR glasses.
Through this collaboration, Samsung Electronics believes that significant amount of momentum will be added to its Foundry Business because now it has a case of using its state-of-the-art process for a multinational IT company like Facebook. AR glasses is also seen as a potential business for other multinational IT companies such as Apple amd Amazon.
Samsung Electronics is also putting in efforts into collaborating with Google, Microsoft (MS), Apple NVIDIA, and Qualcomm. One of main purposes of holding its foundry forum at major countries such as the U.S. and Europe and introducing its technologies and roadmaps is to induce multinational semiconductor design companies as its customers.
It is heard that Samsung Electronics' Foundry Business has secured a stable operation rate as its 12-inch wafer line was packed with orders last year. If it is able to secure customers for its EUV line through collaboration with Facebook especially, it will be able to quickly chase after TSMC that is currently the top business within the foundry industry.
Representative for Samsung Electronics stated that Samsung Electronics cannot disclose any information related to its customers when the representative was asked about Samsung Electronics' collaboration with Facebook.
Staff Reporter Kang, Hyeryung | kang@etnews.com