BOE is getting ready to supply its newly developed flexible OLEDs to Huawei and this will be the first time when a Chinese display manufacturer has made flexible OLED and is going to supply it to a finished product manufacturer. This indicates that China has finally succeeded in entering OLED markets. While South Korean OLED manufacturers put a hold onto their investments due to South Korean Government fearing about technologies being leaked, Chinese manufacturers have started becoming more advanced in this field. South Korea's OLED industries are worried that Chinese OLED manufacturers will be able to catch up to them if they do not widen their gaps in level of technologies and outputs with Chinese businesses through fast investments.
According to industries on the 9th, it is confirmed that BOE is going to start producing flexible OLEDs at its B7 plant, which is located in Chengdu, at the end of this month. It has already secured parts and materials that are needed to manufacture flexible OLEDs and is planning to produce 5.99-inch flexible OLEDs starting from November after starting off with 5.5-inch flexible OLEDs. It is understood that BOE is going to produce about 10,000 flexible OLEDs per month. Although its output is rather small due to low yield, it is going to supply its flexible OLEDs to Huawei.
Huawei is the number one and number three Smartphone manufacturer in China and in the world respectively. According to industries, Huawei is planning to use flexible OLEDs from BOE for its Smartphone business starting from this month.
This is the first time when a Chinese business is producing flexible OLEDs. BOE is China's biggest display manufacturer and has become a global business in LCD markets after actively making investments along with support from Chinese Government. By supplying flexible OLEDs to Huawei, BOE has also achieved positive results of entering flexible OLED markets that are growing at a fast rate.
It is likely that BOE will prepare an opportunity where it will be recognized globally from an aspect of technology and quality by supplying its flexible OLEDs to a major Smartphone manufacturer. Flexible OLED has been a field that has been led by South Korean businesses. According to a market research company called IHS Markit, Samsung Display had 98.3% of market shares in flexible OLED markets by end of second quarter. LG Display has also regularized its flexible OLED business by investing $8.75 billion (10 trillion KRW).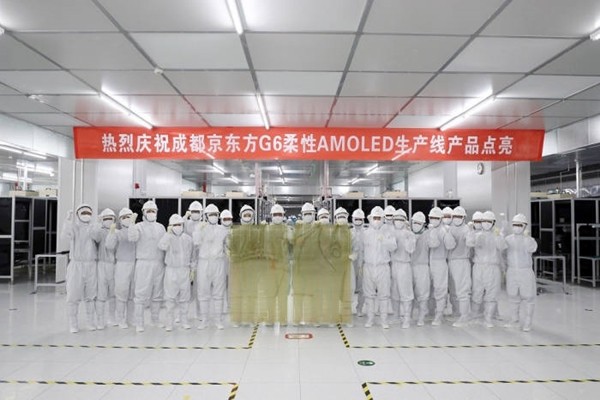 As China has begun to join flexible OLED markets that have been practically monopolized by South Korean businesses, it is likely that competitions will only get intensified which will cause South Korean industries to start shrinking. In fact, Huawei has decided to use BOE's products this time when it manufactured its Smartphones in the past by using Samsung Display's OLEDs. Moreover, it is heard that BOE's 5.5-inch flexible OLED is a curved OLED that has both edges of a display bent. Not only is curved OLED is a flagship product for Samsung Display but it is also a distinct characteristic of Samsung Electronics' flagship models. Also there are rumors that Apple, which gets its flexible OLEDs just from Samsung Display, is beginning to talk with BOE in order to lower level of its dependence on Samsung Display.
OLED industry has been led by South Korean businesses and there is about three to five years of gap in technology between South Korean businesses and Chinese businesses. However South Korean businesses cannot relax anymore as BOE is getting ready to start mass-producing flexible OLEDs.
"Although there are still gaps from an aspect of yield and mass-production, South Korean industries need to focus on the fact that BOE took its first step towards OLED industry." said many representatives for this industry. "Pursuit from Chinese businesses has become actualized." It is heard that BOE is preparing a commemorative event by placing significant level of meaning into its success in shipping flexible OLEDs.
Although threats from Chinese businesses are becoming more and more real, South Korean industries are worried that they cannot make investments on right time in order to keep their distances from Chinese businesses. LG Display was planning to construct 8th generation OLED plant in Guangzhou. However it had to hold its investments as South Korean Government showed negative stance towards LG Display entering Chinese market. Minister Baek Woon-kyu of Ministry of Trade, Industry and Energy (MOTIE) made a comment at a meeting for semiconductor and display industries on the 18th of last month by saying that it will be better for South Korean businesses to rethink about entering Chinese markets. MOTIE has yet to make a decision on a request made by LG Display regarding its investment in China. Although LG Display's investments in China is regarding large OLED displays that will be used for TVs, LG Display will be able to strengthen its flexible OLED business after laying foundations of its business on large OLED displays.
"South Korea's display industry has its future in OLED that has high degree of difficulty in technology and where it is difficult for Chinese businesses to keep up with." said Vice-Chairman Han Sang-beom of LG Display recently with reporters. "South Korean industries need to grow markets for large OLEDs."
Staff Reporter Yun, Keonil | benyun@etnews.com