As Chinese and Taiwanese panel manufacturers are operating their new 8th generation and 8.6th generation LCD facilities one after the other in second quarter, industries are interested on whether or not this will impact related markets. Industries are interested on whether or not supply and demand for large TV panels, which are very tight, will be more relaxed as these new facilities will focus on producing panels that are 50 inches or bigger.
According to industries on the 18th, China's HKC recently started mass-producing panels from 8.6th generation LCD plant that is located in Chongqing. Although HKC is known as an OEM (Original Equipment Manufacturing) business for monitors, it started producing large TV panels for the first time.
Taiwan's Innolux started operating its 8.6th generation LCD plant, which is located in Kaohsiung, in early this year and is mass-producing 45,000 to 50,000 panels per month.
New 8th generation facilities are set to be operated soon. LG Display finished bringing in equipment to its line located in Guangzhou as part of its second stage of investment and is focused on increasing operation rate of this line. This line has a size that can produce 50,000 panels per month additionally.
BOE is planning to mass-produce 75,000 panels per month from its newly-constructed 8th generation LCD line 'B10' that is located in Fuqing. Because it is carrying out second stage of investment at the same time, it seems that areas that correspond to second stage of investment will operate starting from early next year.
New production capacity that is set to operate corresponds to 240,000 panels per month.
Reason why panel manufacturers are expanding their production capacities of LCDs is because there is continuous lack of supplies as demands have shifted towards large TVs. In case of LG Display, although it received requests from Samsung Electronics regarding TV panels, it is currently having difficult time to supply these panels on appropriate time as supplies are very tight. As Foxconn stopped supplying its panels to Samsung Electronics in order to revive Sharp's TV business, it caused overall supply and demand for LCDs to become even tighter.
Preference of TV size has shifted from 55-inch panel to 65-inch panel and number of demands for 77-inch panel is growing as well. Although size of panels that are supplied is becoming bigger, amount of supplies it self is continuously getting smaller.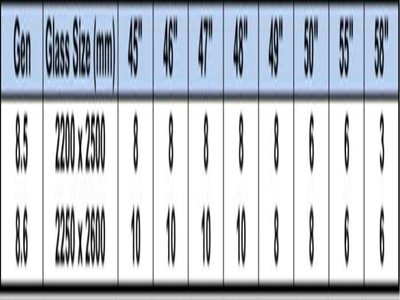 Industries are interested on what kind of impact new 8.6th generation LCD lines, which are going operate starting from second quarter, will have on entire supply and demand.
Compared to current 8th generation and 8.5th generation (2250x2500mm), standard for 8.6th generation (2250x2600mm) chosen by Innolux and HKC has better panel ratio that can be obtained from original board for panels with sizes between 45 inches and 58 inches.
According to a market research company called DSCC, while8 panels of 45-inch, 46-inch, 47-inch, and 48-inch panels are produced from 8.5th generation lines, 8.6th generation can produce 10 of each panel. 8.6th generation line (8 panels) can also produce more 50-inch panels than 8.5th generation line (6 panels). For 58-inch panel, 8.6th generation can produce 6 58-inch panels while 8.5th generation can only produce 3 58-inch panels.
Experts from this industries are predicting that problems regarding supply and demand will not be solved completely even when these new facilities start to operate because panel manufacturers from South Korea and Taiwan stopped operating low-generation LCD lines through end of last year and early this year and there is a chance that they will stop operating additional lines by end of this year.
There is a chance that LG Display will convert current 8th generation LCD production line into a production line for large OLEDs in order to increase efficiency of investments towards OLED TV panels. However this won't have too much impact on output of entire LCDs as it is looking to invest to extend its lines in Guangzhou.
Experts are paying attention towards major TV set manufacturers lowering their goals of TV sales this year as prices of panels continue to be high while demands for TV sets are insignificant. They analyzed that moves made by TV set manufacturers will have more impact on supply and demand for entire panels and their prices than changes in supplies of panels.
"BOE is quickly preparing to operate its 10.5th generation line which is set to operate starting from 2018." said a representative for an industry. "Before it can mass-produce 10.5th generation panels stably, strategies of TV set manufacturers can have more impact on changes in markets rather than supply of panels."
Staff Reporter Bae, Okjin | withok@etnews.com