Established 'Battery Company' with Honda
The largest number of local joint ventures in the industry
Secure demand... Overcoming IRA barriers
LG Energy Solution is accelerating their advance into the US EV market. While the US is building trade barriers such as the Inflation Prevention Act (IRA), they have already formed a joint venture for EV batteries with three global automakers in the US, and additional cooperation with other automakers is on the way, making it one step closer to preoccupying the market.

On the 13th, LG Energy Solution officially announced a joint venture with Honda for EV batteries in the US. The two companies decided to establish the 'L-H Battery Company' in Ohio and confirmed an investment of 4.4 billion USD (approximately 5.5 trillion KRW). They have decided to mass-produce batteries that can produce 500,000 pure EV(40 gigawatt hours scale) from the end of 2025.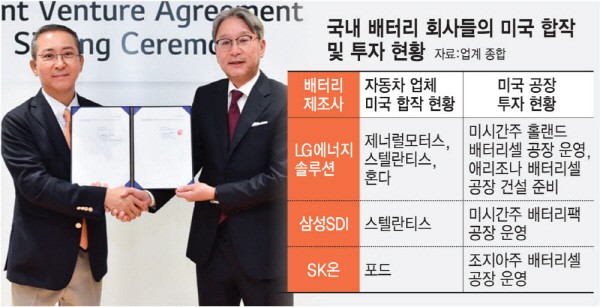 The joint venture with Honda is the third case in which LG Energy Solution has joined hands with a finished vehicle manufacturer in the US. They previously established 'Ultium Cells' with GM and 'NextStar Energy' with Stellantis. Ultium Cells has prepared or planned to build factories in Ohio·Tennessee·Michigan, and Next Star Energy has prepared to build factory in Ontario, Canada.

As a result, LG Energy Solution has become a company with the largest number of EV battery joint ventures in the US in the battery industry. Compared to Samsung SDI's partnership with Stellantis, SK on's with Ford, and Panasonic's with Tesla's, this is an aggressive and quick move.

LG Energy Solution did not stop here, and additional cooperation with other global finished vehicle manufacturer was announced. According to the industry, Toyota and Hyundai Motors are being discussed as strong candidates for a US joint venture.

At a meeting with executives and staff last year, Vice Chairman Young-soo Kwon said, "We are going to announce a new battery joint venture in the first quarter. We will be able to secure a surprisingly large number of customers."

The reason why the joint venture between LG and finished vehicle manufacturers is attracting attention is that the US is the world's largest EV market on the rise, and entry barriers are also rising.

Last year, the US enacted a law (IRA) to incentivize domestically produced EV and parts. This means that products not produced in the US do not receive subsidies, and if excluded from support, the possibility of market exit increases.

It means that the company will miss an opportunity in the fast-growing U.S. market due to poor price competitiveness. This is why finished vehicle manufacturers and battery makers are rushing to enter the US in various forms, whether joint ventures or direct investments.

The global EV market is expected to grow from 10 million units last year to 50 million units by 2030. US EV are expected to form 10 million units, about 20% of the total units by 2030. It will become the world's largest EV market.

In addition, according to market researcher SNE Research, the US EV battery market is expected to grow sharply at an average annual rate of 63% from 64GWh in 2021 to 143GWh in 2023 and 453GWh in 2025.

As the US is holding China in check in the high-tech industry, Korean companies with global competitiveness are expected to benefit as the US EV market grows. It is interpreted that LG Energy Solution is developing a business in the form of a joint venture that can secure stable demand in order to grab opportunities.

An industry insider said, "Since batteries are a key part of EV, it will be urgent for finished vehicle manufacturers to secure a company that can supply a stable supply. We are anticipating the possibility of additional joint ventures by LG Energy Solution."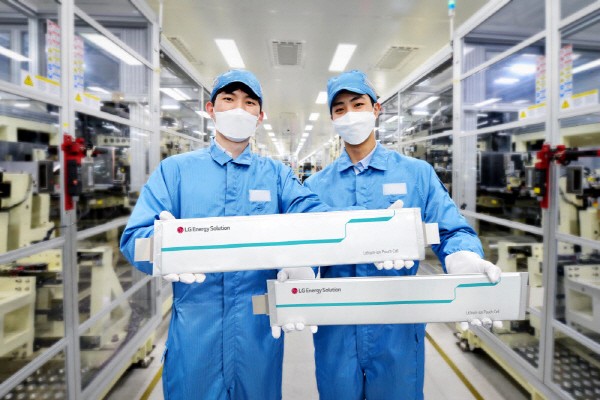 By Staff Reporter Ji-woong Kim (jw0316@etnews.com)