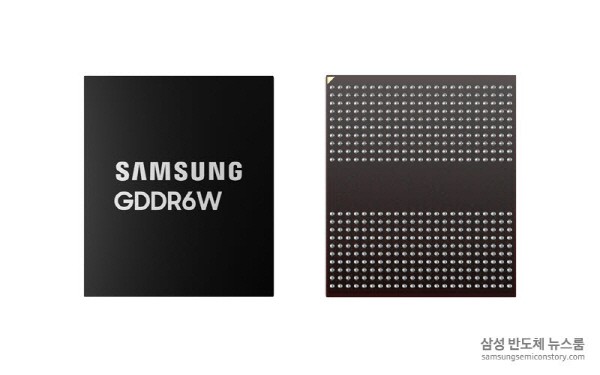 Samsung Electronics developed the 32Gb GDDR6W, which is based on the next generation packaging technology of fan-out wafer-level packaging (FO-WLP). The development of the GDDR6W is the first in the industry to utilize FO-WLP.

The GDDR6W is a next generation DRAM product that has provides double the performance and capacity compared to existing products. As the use of data rises rapidly with the expansion of high-spec smart devices, it is expected to be used in high-performance game devices and data centers.

Samsung Electronics used the FO-WLP technology to realize the best performance in the industry. The DRAM product uses the same packaging size as other existing products but increased the DRAM capacity from 16Gb to 32Gb. The bandwidth performance is 1.4 TB/s, making it twice as good as it was before.

The FO-WLP technology Samsung Electronics applied on their DRAM is a next generation packaging technology. Fan-out (FO) is a technology that allows a semiconductor's input and output (I/O) terminals to be placed outside the chip to increase the number of I/O. This is advantageous for improving a chip's electrical performance and thermal efficiency. Wafer-level packaging (WLP) is a packaging method that directly connects and packages chips and devices over a round panel. This enables the use of round wafers. Chips are able to be manufactured using the same existing processes. The technology is evaluated to be able to reduce costs while maximizing semiconductor performance.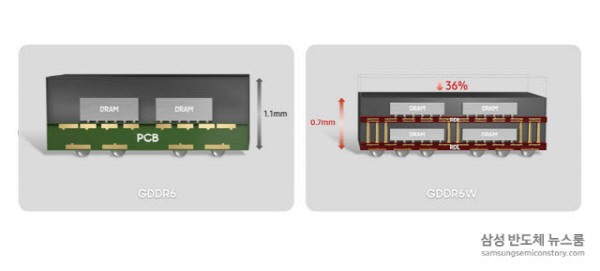 Attempts to overcome limitations in chip miniaturization through next generation packaging technology are actively taking place in the semiconductor industry. In the past 2nd quarter, Samsung Electronics completed the standardization of the GDDR6W product according to Joint Electron Device Engineering Council (JEDEC) standards and secured a base for commercialization. They plan to expand the application of the GDDR6W to AI, HPC, high-performance accelerators used in smart devices, laptops, and other devices through collaboration with other system semiconductor companies in the future.

Cheol-min Park, the managing director of the Samsung Electronics Memory Business Division New Business Planning Team, said that, "We are able to provide a differentiated memory product that can satisfy the diverse needs of our clients through the GDDR6W," and said that, "We plan to use this to continue leading the market." Samsung Electronics is planning to lead the growth of the DRAM market in response to the growth of the next generation memory market.

Reporter Ji-woong Kim (jw0316@etnews.com)