Selected from 9 out of 16 demanding organizations in the 1st business projects
OpenStack-based showed flexibility and scalability as strengths
Ministry of the Interior and Safety, adopting 10,000 syst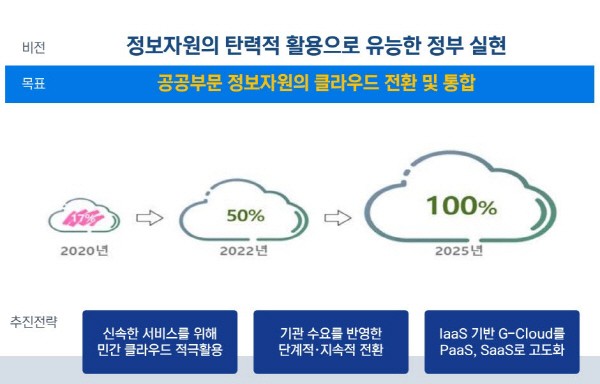 NHN got a head start in the first public cloud conversion project. As the five-year long journey has begun, competition between domestic cloud service providers (CSP) is expected to intensify, such as Naver Cloud and KT's counterattack. It was confirmed on the 29th that the majority of demanding organizations chose NHN Cloud as the cloud service in the 2021 'Administrative and Public Institutions Information System Cloud Conversion and Integration Project (1st)' promoted by the Ministry of the Interior and Safety.

During the first projects, 20 organizations applied for cloud conversion and integration (a total of 133 systems). The Ssangyong Information and Communications Corp. Consortium, the main operator, proposed services from three companies: NHN, Naver Cloud, and KT. From the 20 institutions excluding four that were converted to the National Information Resources Service, 9 out of 16 institutions chose NHN Cloud. Four institutions chose Naver Cloud and three institutions chose KT service.

The institutions that chose NHN Cloud are Jeonnam-do, Jeonnam Development Corporation, Bosang-gun, Gangjin-gun, Yeonggwang-gun, Wando-gun, Sinan-gun, Dangjin-si, and Ulsan Metropolitancity Corporation. A cloud expert said, "NHN Cloud is characterized by being flexible and highly scalable based on open stack. There are many local governments who want to choose NHN Cloud as there are many places that promote strategic cooperation by regional bases, including the Gwangju AI Data Center." This expert analyzed that NHN's first business project result was from a business model that supports local companies and startups, and helps nurture human resources beyond simply providing cloud services.

NHN introduced its strengths as a CSP, such as technological prowess and solution perfection, as well as global competitiveness such as regional cloud managed service provider (MSP) capabilities. Based on the national artificial intelligence (AI) data center business and the regional base public cloud conversion business, they added that they have continued to grow sales by more than 30% every year since 2017, including winning 100 billion KRW in orders from the public sector this year.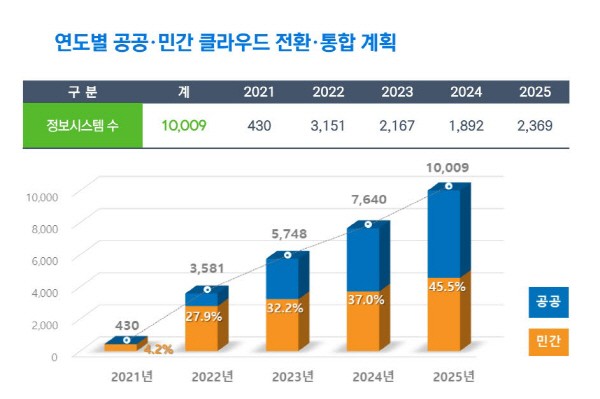 Although NHN took the lead in the first business projects, it is expected that the counterattack of Naver Cloud and KT Cloud will be formidable. Naver Cloud's strengths are the number of more than 200 products and stable services, the most among CSPs. By launching public-exclusive services such as PaaS-TA on NCloud, Neurocloud for public institutions, and Cloud N, they showed their will for the public cloud conversion market.

As part of its 'DIGICO' strategy, KT is pursuing a spin-off of its cloud and data center business. It is expected to intensify the engage on the public cloud transition market. In addition to the three companies, GABIA and Kakao Enterprise are also expected to enter the public cloud conversion market. In addition to CSP, fierce competition is expected between information technology (IT) service providers and cloud MSP in charge of the overall business. The Ministry of the Interior and Safety will convert 100% of the information systems of 10,009 administrative and public institutions to the cloud by 2025. The project budget is about 860 billion KRW. There are 430 conversion target systems this year, and the CSP is being selected by the participating organizations in the secondary project (the main operator, LG Hitachi Consortium).

<Table> Results of CSP selection for public conversion/integration projects (1st)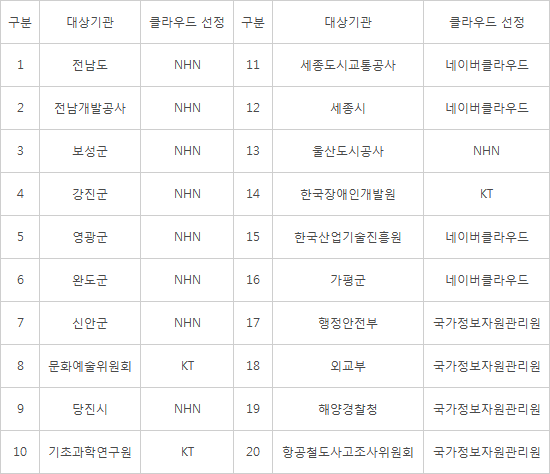 By Staff Reporter Ho-cheon An (hcan@etnews.com)