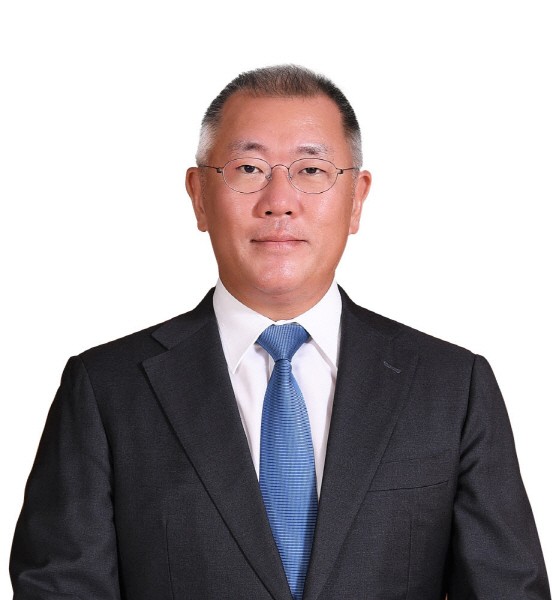 "Hyundai Motor Group's future business will be 50% automobiles, 30% Urban Air Mobility (UAM), and 20% robotics." Eui-sun Chung, chairman of Hyundai Motor Group, will celebrate the first anniversary of his inauguration on the 14th. Over the past year, Hyundai has accelerated the transition from a traditional automobile company to a future mobility company. Announcing the cessation of sales of internal combustion cars by 2040, they have accelerated the strengthening of future new businesses such as electrification, autonomous driving, hydrogen, and robotics.

Chairman Jung made a drastic investment of trillions of KRW in new businesses and laid the foundation for the mobility ecosystem. In the second quarter of this year, which was considered as the semiconductor hardship period, the Hyundai Motor Group showed the potential to achieve the highest performance. Quarterly sales exceeded 30 trillion KRWfor the first time, and Kia also achieved the highest sales and operating profit. Hyundai Motor's operating profit margin was 6.2%, up 3.5 %points (P) from the same period last year, and the highest since the second quarter of 2016 (7.1%) in 19 quarters.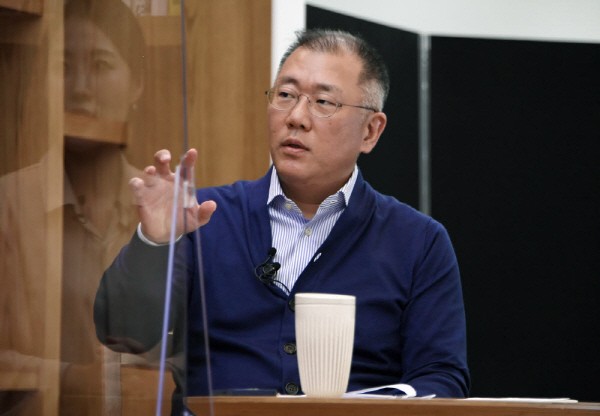 It also instilled confidence in the future value. At the IAA Mobility 2021 held in Munich,Germany on the 6thof last month, Hyundai Motor Company unveiled their blueprint to achieve zero(0) carbon emissions in all stages from car production to operation and disposal. In Europe, they announced that they would sell only electric vehicles from 2035, five years earlier than original plan. In Korea, sales of internal combustion cars will be stopped by 2040. Luxury brand Genesis will also convert all vehicles to hydrogen and battery electric vehicles from 2030.

Chairman Chung saw hydrogen as a future fuel for Hyundai Motor Company and drew the participation of major companies. He took the lead in establishingthe Korean version of the Hydrogen Council for the Korea H2 Business Summit launched on the 8thof this month. A total of 15 companies, including 10 domestic companies such as SK, Lotte, POSCO, Hanwha, and GS, participated. Chairman Chung said, "We will move the business and policy and financial sectors together to improve the integrity and competitiveness of the hydrogen industry ecosystem and establish itself as a leading platform that contributes to the development of the hydrogen economy."

They also showed confidence in autonomous driving and robotics businesses. He announced the commercialization of robo-taxi through Motional, a joint venture, and announced that he would use Boston Dynamics' four-legged robot Spot, which he acquired with his own personal resources, as a facility inspection and security solution.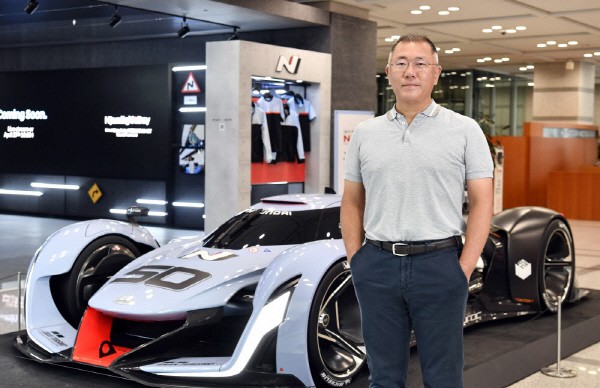 Favorable comments followed after the hard work. Autocar, a British automobile magazine, presented Chairman Chung the highest honor, the Issigonis Trophy, at the 2021 Autocar Awards. For the first collective bargaining agreement after his inauguration, a dispute-free settlement was reached and a stable production base was established.

There is still remaining homework. In order to strengthen the group's dominance, Chairman Chung must promptly solve the problem of reorganization of the corporate governance structure that has formed four cross-shareholding structures. They also have to solve problems such as making a breakthrough in the Chinese market, which is on a downtrend in sales, resolving the supply and demand shortage of semiconductors,building a Global Business Center (GBC), which was a long-cherished dream of Honorary Chairman Mong-koo Chung, and entering the used car market.

By Staff Reporter Chi-yeon Chung chiyeon@etnews.com