LG Chem has begun conducting a major hiring process for its battery materials business as it plans to promote its business according to the electric vehicle battery market's growth. It is expected that the company will actively internalize key battery materials and expand the battery materials business.
LG Chem announced on Sunday that it has begun conducting a hiring process of hundreds of new and experienced employees for its advanced materials division in order to increase manpower in the battery materials business. This will be the biggest hiring process for the division ever since it was established in 2019.
The company plans to hire people for every business line that includes battery materials such as cathode material and separator film, engineering materials such as post-consumer recycled polycarbonate (PCR PC), materials such as OLED for IT devices, and RO (reverse osmosis) filter. However, because the company plans to hire hundreds of people just for its battery materials business, the hiring process is focused on strengthening manpower in the battery materials business.
LG Chem has been working on promoting its battery materials business. It is working on drastically increasing its production capacity in cathode materials that are one of the four key materials of a battery. It is building additional production lines at its plant in Cheongju which will increase annual production capacity of cathode materials by 30,000 tons and it plans to break ground for a 60,000-ton production plant in Gumi by end of this year. It plans to double the production capacity from 40,000 tons last year to 80,000 tons this year and ultimately increase the capacity to 260,000 tons by 2026.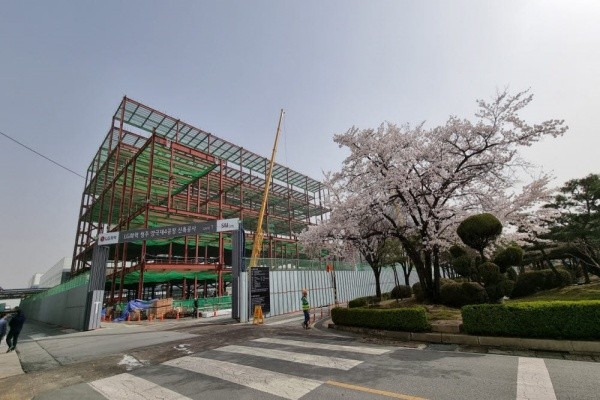 Its goal is to at least double sales from the advanced materials division within the next five years by expanding its battery materials business. In 2020, it made $2.3 billion (2.6 trillion KRW) from the division. It plans to make the latter end of $3.6 billion (4 trillion KRW) this year. Because manpower is absolute necessary in order to expand a business, LG Chem has decided to hire hundreds of both new and experienced people.
The company's battery materials business that has been centered on cathode materials is starting to be diversified. The company has combined capabilities and resources related to various battery materials such as thermal adhesive, BaaS (battery as a solution), cathode binder, anode dispersant, and electrolyte additive into the advanced materials division. While LG Energy Solution focuses on batteries, LG Chem has begun to focus on battery materials.
Nam Cheol, who is the head of the advanced materials division, said that LG Chem plans to promote growth engines in battery materials and others by hiring talented individuals who will lead the company's advanced materials business to success and raise the business's competitive edge one step higher.
The company plans to receive applications by May 11 and carry out interviews afterwards. Successful candidates will begin working at the company in July and will be placed in different groups after an introduction process.
Staff Reporter Kim, Jiwoong | jw0316@etnews.com