BOE, the biggest display maker in China, held an internal celebration event at the end of last year to celebrate Apple's approval of its flexible OLED display. It finally obtained orders for its flexible OLEDs from Apple after 3 years and 6 months from operating its 6th generation flexible OLED plant for the first time in May of 2017.
The company is drawing interest as it starts to make its brand known in the flexible OLED market for smartphones. It has caught up to Samsung Display and LG Display that have been the leaders in the field of flexible OLED.
Samsung Electronics plans to use BOE's flexible OLEDs for few models of its Galaxy M series that will be released this second half. This will be the first time that Samsung Electronics is going to use BOE's flexible OLED panels for its smartphones. By obtaining orders from Apple and Samsung Electronics, BOE now has the two biggest smartphone manufacturers in the world as its customers.
BOE is at the front line of China's display industry that is looking to rise as the world's biggest and best display industry. The company was established in 1993 by Wang Dongsheng and focused on production of CRTs (cathode ray tube) early on. It then entered the LCD market by acquiring Hydis that was separated from Hyundai Electronics in 2002 and it currently stands at the top of the LCD market through extensive support from the Chinese government.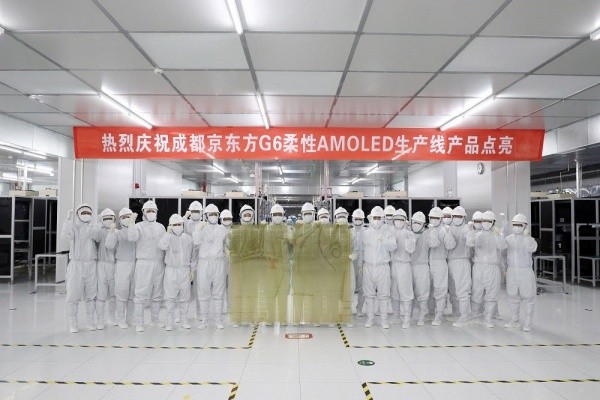 Samsung Display and LG Display decided to withdraw from the LCD market that has become a red ocean as Chinese display manufacturers including BOE have gone on the offensive and transitioned towards OLED business that is considered as a high-value business. As a result, Samsung Display and LG Display currently stand at the top of the small and medium-sized OLED market and large OLED market for TVs respectively and have pioneered a blue ocean.
However, they are now concerned about BOE making a rapid progress in its OLED business. They now have to compete with BOE regarding OLED orders for iPhones that have been like a backyard for Samsung Display and LG Display while Samsung Display also has to compete with BOE regarding orders from Samsung Electronics. As BOE now covers low-end displays to high-end displays, South Korean display manufacturers are now involved in an endless competition era with Chinese display manufacturers regarding OLED.
Experts emphasize that South Korean display manufacturers need to continue to upgrade their competitive edge in technology. In order to stay ahead of pursuit from Chinese companies, technology is the only option for South Korean display manufacturers. In fact, China's production capacity of 6th generation flexible OLEDs is expected to surpass South Korea in 2023.
"South Korean companies are still three to five years ahead of Chinese companies when it comes to low-power and high-efficient OLED and next-generation OLED technologies such as foldable OLED." said Director Kim Ki-hyeon of a market research company called Stone Partners. "However, as pursuit from Chinese companies becomes faster, South Korean companies need to continue to develop differentiated technologies in order to stay ahead of Chinese companies."
Staff Reporter Yun, Geonil | benyun@etnews.com