Korea HPE Aruba has decided to grow as a managed service provider (MSP) by working with the three major mobile carriers from South Korea. Encouraged by the growth of its wireless network business, it will also look to expand its SD-WAN (Software Defined Wide Area Network) business.
Kang In-cheol, who is the Korea HPE Aruba Business Unit manager, held an online press conference on Wednesday that the company's MSP business, which also involves the three major mobile carriers from South Korea, will grow drastically this year and that the company already completed many cases and is expecting an increase in revenue through "big deals" that are already in a process of being obtained by the company.
HPE Aruba is pursuing a business where it connects network equipment business related to communication lines provided by the mobile carriers to their customers and its own wireless solution to the mobile carriers' cloud computing services. In case of its cloud computing service, it had discussions with a particular mobile carrier last year and has entered a partnership with the carrier.
Korea HPE Aruba is planning on digital transformation through Aruba ESP (Edge Services Platform), network connection extension through WAN, increased revenue through MSP business, and domination of the small and medium businesses (SMB) market through Instant On this year. It will also look to expand its WAN portfolio as it acquired a SD-WAN company called Silver Peak.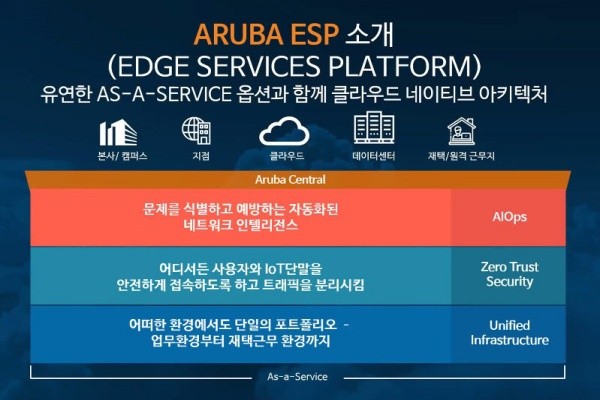 The company will work on strengthening the "Aruba ESP". "The Aruba ESP is not a product that is designed for a particular industry, but it is a framework that covers entire next-generation portfolios." said Kang. "Every Aruba product and solution will be designed based on the Aruba ESP architecture."
Aruba ESP is a cloud-native AI-based platform that was developed to automated and unify the Edge safely. HPE Aruba developed the platform in order to optimize "Edge to Cloud" and "Intelligence Edge". According to IDC, about 55 billion devices will be connected to the Edge by 2022.
The platform is made up of Unified Infrastructure, Zero Trust Security, and AIOPs (Artificial Intelligence for IT Operations). It combines network operations into single architecture, protects data connection through dynamic segmentation, and provides insights through data analysis and execution. It minimizes complexity through connection, protection, and analysis and execution.
AIOPs, which is designed for analysis and execution, is able to quickly solve issues through AI Assist, AI Search, and AI Insights and it increases network capacity and raises accuracy in analyzing causes of a problem. After improving the platform's availability, HPE Aruba saw one company experiencing a 50% reduction in number of accidents and issues and making its IT department's work more efficient by up to 50%.
Kang said that HPE Aruba possesses technologies that are able to make every connection from the Edge to the cloud more stable and that the company will provide better services to its customers by strengthening unified operation and security through the Aruba ESP platform.
Staff Reporter Oh, Dain | ohdain@etnews.com