Samsung Electronics' Mini LED TV "Neo QLED TV", which is seen as a TV with high potential for the company, is expected to be sold at 4 to 25% higher than its current QLED TVs. It is expected that the company will widen the price difference between smaller Neo QLED TVs and the company's current QLED TVs and minimize the difference between larger and high-quality models.
The focus is on Samsung Electronics' policy on price as China-based TCL, which released Mini LED TVs earlier than Samsung Electronics, has been targeting the global TV market with low-priced Mini LED TVs.
According to the industry and foreign press on Monday, estimated prices of Samsung Electronics' Neo QLED TVs that will be sold in Switzerland have been revealed. The Neo QLED TV is a Mini LED TV that has been drawing attention recently. Tens of thousands of Mini LEDs that range anywhere from 100 to 200 micrometers are used as a backlight. Compared to the existing LCD TVs, Mini LED TVs' screens are much brighter and clearer.
Samsung Electronics plans to release a 4K lineup made up of QN85A, QN90A, and QN95A series and a 8K lineup made up of QN800A and QN900A next month at the earliest. It is estimated that the price of 55-inch QN85A of the QN85A series, which will be the cheapest out of all Neo QLED TVs, will be around $2,250 (1,999 Swiss Franc). The price of 85-inch QN95A of the QN95A series, which will be the most expensive model out of all 4K Neo QLED TVs, is estimated to be around $6,760 (5,999 Swiss Franc). For the QN800A series, 65-inch QN800A and 85-inch QN800A are estimated to be sold at $4,840 (4,299 Swiss Franc) and $9,000 (7,999 Swiss Franc) respectively.
Compared to 4K 2020 QLED TVs that have 50 to 55-inch screens that are the most popular models out of all 4K 2020 QLED TV models, Neo QLED TVs are up to $453 (500,000 KRW) more expensive. However, some larger models and models with 8K resolution are either only slightly more expensive or actually cheaper than Samsung Electronics' LCD TVs. In fact, 75-inch 8K QN900A is about $560 (619,305 KRW) cheaper than the 2020 75-inch Q800T QLED 8K TV.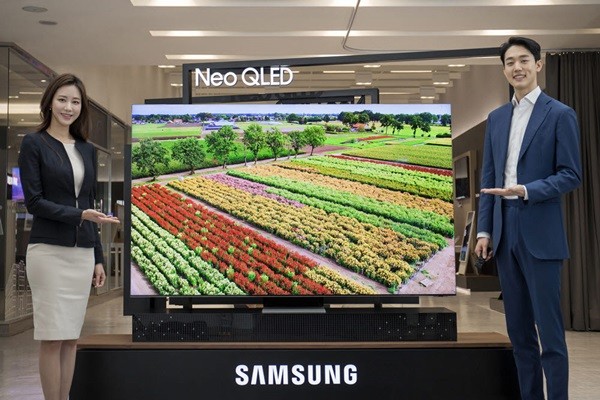 TCL is the only TV manufacturer that has officially released Mini LED TVs. Its 55-inch 6-series 4K model and 65-inch 6-series 4K model are currently selling for $699 and $999 respectively. Its 75-inch 8-series 4K model, which is the most expensive Mini LED TV model, is only selling for $2,999. Compared to Samsung Electronics' Neo QLED TVs, prices of TCL's Mini LED TVs are about a third on average. The fact that TCL's Mini LED TVs were released in 2020 and that Chinese TV manufacturers are emphasizing high performance compared to price are the reasons why TCL's Mini LED TVs are much cheaper than Neo QLED TVs.
There is a great chance that official store prices of Neo QLED TVs will be changed depending on markets.
Although Samsung Electronics' MicroLED TVs are at the top of the company's TV lineup, it is difficult for the company to set them as its main products as they cost more than $90,600 (100 million KRW) per unit and will only see limited demands. Even though it needs to set Neo QLED TVs as its main products, it is likely that it will be difficult for the company to set their prices low.
Particularly, the company has been stating that it will carry out a premium price strategy while having QD (Quantum Dot) color filter that is applied to the front of a display as an element that sets itself apart from its competitors.
LG Electronics, which is set to release its Mini LED TVs around the same time as Samsung Electronics, announced that it plans to sell 8K Mini LED TVs at a half price of that of its OLED TVs. TCL is scheduled to release its second-generation Mini LED TVs by the end of this year.
Once Samsung Electronics announces prices of its Mini LED TVs, which are set to be groomed as premium products, it will cause its competitors to think deeply about preparing their own policies on price.
One official from the industry said that actual prices of Neo QLED TVs can be changed depending on countries and will be much cheaper due to promotions and others and that Samsung Electronics will consider prices of Neo QLED TVs to be somewhere between QD OLED TVs that will be released in the near future and the company's current QLED TVs.
Staff Reporter Jung, Yongcheol | jungyc@etnews.com