Samsung Electronics introduced a new 110-inch MicroLED TV for domestic use that is seen as a next-generation display technology. MicroLED TV has very small micrometer-sized LEDs emit light and make color on their own. This product targets the ultra-premium TV market, and Samsung Electronics plans to pioneer a MicroLED market starting with this product.
Samsung Electronics introduced the product through an online webinar on Thursday.
Although the product is made based on a module just like Samsung Electronics' the Wall MicroLED TV system that was developed to target the B2B (Business to Business) market, the difference is that the product is made as a finished product. The new MicroLED TV's production technology is more advanced than that of the Wall, and its production speed has become much faster as well.
The company's new MicroLED TV uses 8 million MicroLED devices with an approximate size of 3.3 m2 and it has 4K resolution.
Picture quality of the new product was done through "Micro AI Processor". This processor is based on quantum processor technology that is applied to QLED 8K TVs and it was made by combining spontaneous emission feature and a distinct AI algorithm. It applies optimal details and brightness to each scene and displays optimal HDR (High Dynamic Range) images with 3D effect and vividness.
MicroLEDs provide a high level of brightness and color gamut of 100% as they are able to express every color that resembles the actual color very closely through by making three primary colors of light on their own. On top of that, Samsung Electronics applied contrast control technology in order to raise contrast ratio and drastically improve the product's picture quality.
Samsung Electronics applied "Monolith Design" that removes boundaries between the content and the screen and the screen and the wall. Even Samsung logo is placed at the side of the product so that MicroLED's identity can be emphasized.
The product is applied with "Arena Sound" that provides vivid immersion without external speakers through 5.1 channel sound.
The product also offers a "Quad View" feature that allows its users to view four different 50-inch screens. Whenever the feature is used, a person can hook up four different devices that can be connected to HDMI cable to the product. For example, one can hook up a gaming console while watching news, sports, and internet at the same time.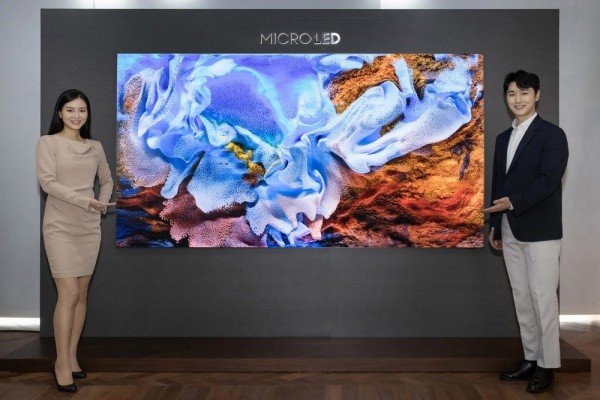 The store price of the product is set at $156,000 (170 million KRW). The company plans to hold a presale sometime during this month and release the product in the first quarter next year. The product will be made available in South Korea first and then other countries such as the United States, Europe, and the Middle East.
MicroLED display, which is seen as an emerging display technology, uses ultrasmall micrometer-sized LEDs, does not require backlight and color filters, and is able to emit light and make colors on its own. MicroLED's RGB devices are able to emit light and make colors on their own unlike RGB devices of other TV displays. As a result, one can experience colors that are like natural colors. Because 8 million RGB devices are controlled individually, they are able to express brightness and colors of a screen very precisely.
Another strength of MicroLED TV is that the TV uses inorganic materials. Unlike organic materials, inorganic materials have a lifespan of 100,000 hours. As a result, one does not have to worry about a burn-in issue or degraded quality.
Samsung Electronics also applied its advanced mounting technology to the new MicroLED TV as well. By arranging devices more closely and precisely compared to its current products, it was able to succeed in commercializing the 110-inch MicroLED TV. It has also secured a technology for making MicroLED TVs that are smaller than 110 inches.
Samsung Electronics manufactures the new product by attaching 200 8-inch modules together. 24 million LED chips that display the three primary colors go into the product. Because these chips are extremely small, microchip control for turning these chips into modules is very important. Samsung Electronics displayed an advanced manufacturing ability as it is difficult to locate traces where modules are attached to each other. The company manufactures entire supplies of 110-inch MicroLED TVs at its plant in Vietnam and it is confident that it has secured production capacity enough for potential demands. It predicted that it will be able to sell more 110-inch MicroLED TVs than 98-inch TVs.
Han Jong-hee, who is the head (President) of Visual Display Business at Samsung Electronics, said that he was pleased to introduce a new MicroLED TV that is applied with the best display technology to the public and that MicroLED TV will be the start of a new display with innovative technologies that are different from other existing TVs.
Staff Reporter Kwon, Geonho | wingh1@etnews.com & Staff Reporter Kim, Yongjoo | kyj@etnews.com