It is found out that copies of apartment door locks and transportation cards can be easily made using a RFID (Radio Frequency Identification) copier. Countermeasures need to be established as a normal person can easily purchase a RFID copier from an internet shopping mall. Experts are concerned that there can be serious crimes when RFID copiers are used as a bad intention.
According to the industry on Wednesday, it is reported that copies of transportation cards and door locks can easily be made using RFID copiers that are sold on foreign shopping mall websites. These copiers are currently sold online for about $27 (30,000 KRW). This product was not made for criminal purpose and it makes a loud noise whenever it is used and does not perform well either.
This product is currently used to manage membership cards or door lock keys. Because its maker was concerned about a possibility of having its product used for criminal purpose, it displays a warning message that tells its user to use the device for legal purpose when it is loading up. However, there needs to be regulations and countermeasures as the device can be misused for serious crimes.
The Electronic Times checked the product's actual functions along with an expert in information protection. Anyone can easily operate the device. An original card was scanned in just three seconds using the device. An empty card then can be used to store information that was scanned by the device. Even information of other cards from a wallet was easily scanned with just indirect contact.
The Electronic Times attempted to duplicate few cards from a wallet using the device. Although the device was not able to recognize debit or credit cards that use IC (Integrated Circuit) chips, it was able to obtain information of door lock key cards and prepaid car wash cards. A copied door lock key card actually worked to access its corresponding apartment door lock. However, a copied transportation card did not operate normally at a subway station due to a recognition error.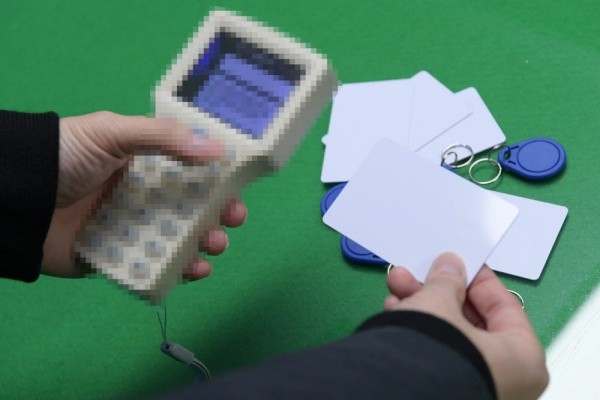 "Although there is not much of a possibility that a RFID copier will be used for crimes in South Korea as only small payment methods use RFID, it can be however used for a criminal purpose in overseas when it is used along with other high-performance devices." said Professor Hwang Seok-jin of Dongguk University's Graduate School of International Affairs and Information Security. "Copies of door lock key cards made through RFID copiers can be used for burglary."
Everyday plastic cards are very important for finance and everyday life. As a result, security is very important. In the past, crimes using duplicated MS (Magnetic Strip) cards became a social issue. Normally, debit and credit cards include both IC chip and RFID chip. It is practically impossible to copy an IC chip as it was developed to supplement a weakness of MS cards. RFID chip utilizes frequency for wireless recognition technology. Transportation cards and door lock key cards are prime examples that use RFID chips.
In a long term, there needs to be systematic management towards sale of RF card copiers. Experts agree that an environment where anyone can easily purchase a copier can be a risk. Although South Korea maintains a high level of security when it comes to finance, there is a great possibility of a weak point existing in industries such as fintech and digital finance where convenience is very important.
"There are many ways to duplicate cheap RFID chips." said Professor Han Dong-guk of Kookmin University's Information Security Cryptography Mathematics Department. "Although cheap RFID-based access passes that are used to control access has been seen as an issue for a long time, it is still very easy to duplicate these passes."
"Although convenience level of payments is being improved due to technology development, there is still a growing number of cases of abusing weak points in security." said a representative from the Credit Finance Association. "We cannot eliminate a possibility that IC cards can also be duplicated like MS cards as criminals come up with creative ideas." This representative also added that RFID-based payments are not easy to process except for small payments made by transportation cards and others and that it is necessary to check carefully for areas that need to be supplemented in case illegal payments start to cause issues in the future.
Staff Reporter Lee, Youngho | youngtiger@etnews.com & Staff Reporter Park, Yoonho | yuno@etnews.com & Staff Reporter Oh, Dain | ohdain@etnews.com