The prices of 8K TVs are dropping rapidly as Chinese TV manufacturers have begun to launch their own 8K TVs. The difference between the prices of 8K TVs and 4K TVs is becoming narrower as popular 8K TV models are being sold anywhere between $1,800 (2 million KRW) and $2,700 (3 million KRW) and some Chinese companies are selling 8K TVs under $900 (1 million KRW). Because more 8K TV models are expected in 2021, it is likely that the gap will become even narrower and there will be a rapid popularization of 8K TVs.
According to the industry, it is reported that the prices of 8K TVs have begun to drop as TV manufacturers are preparing for Black Friday, which is the biggest shopping season in the United States.
50 to 60-inch 8K TV models from Samsung Electronics and LG Electronics are being sold in $2,000 range while 75-inch models are being sold in $3,000 range. Prices of 8K TV models from Chinese manufacturers are slightly lower than that of Samsung Electronics and LG Electronics. Skyworth recently launched its new 65-inch 8K TV at a price of $1,810 (12,000 yuan).
Changhong launched its 8K TV models at drastically reduced prices. Its 55-inch 8K TV and 75-inch TV were launched at $600 (4,000 yuan) and $1,300 (8,700 yuan) respectively.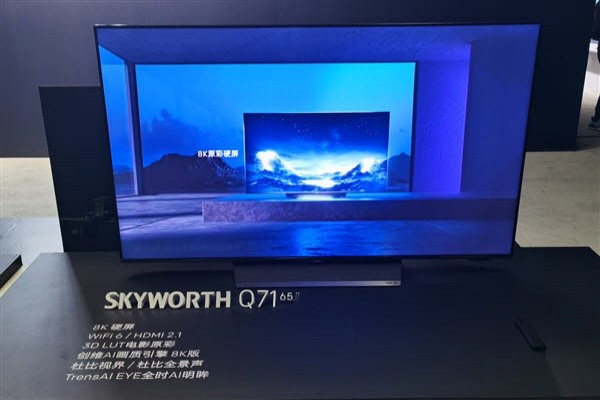 In case of lower-end 8K TV models, there is not much difference between the prices of 4K TVs and 8K TVs that have same sizes. As a result, consumers can choose between luxury lineup of 4K TVs and a lower-end lineup of 8K TVs.
It is likely that there will be more 8K TV models in 2021 as TV manufacturers are looking at 8K quality as an element that will differentiate themselves in the global premium TV market. Although 8K TV broadcasting has not been vitalized yet, TV manufacturers have solved the lack of 8K contents issue by upgrading qualities of their 8K TV models through artificial intelligence (AI).
Forecast of the global 8K TV market is also positive. A market research company Omdia estimates that there will be a 110% jump from last year to this year. However, the market's growth is actually faster than Omdia's estimation. 52,600 units of 8K TV were sold globally in the second quarter alone and the number of units surpassed the initial estimation that was 42,900 units.
"It is expected that there will be fierce competitions for lower prices as Chinese TV manufacturers have begun to enter the global 8K TV market and launch their models overseas." said one South Korean TV manufacturer official. "Because Samsung Electronics and LG Electronics are also planning to launch entry-level 8K TV models in 2021, it is likely that there will be a rapid popularization process of 8K TV in 2021."
Staff Reporter Kwon, Geonho | wingh1@etnews.com