OPPO, a Chinese smartphone manufacturer, is drawing attention from the industry as it is looking to accelerate development of cutting-edge application processors (AP). It is currently facing supply and demand and development of APs through native companies due to sanctions imposed by the U.S. Government on Huawei. As a result, it is doing everything it can to develop its own SoCs (System on Chip) through various means such as attempting to hire new personnel.
According to the industry on October 25, it is reported that OPPO is actively hiring developers for NPU (Neural Processor Unit), AI chip architect, CPU, SoC with functions of GPU, and image sensor through LinkedIn.
Its hiring process is a contrast to how Huawei's subsidiary HiSilicon is not hiring any professional on the same website.
The company is currently looking for semiconductor developers who will work in Pudong that is a district of Shanghai. It is likely that developers hired by the company will conduct research at the company's R&D center that was established in 2018. The district was also the home of the R&D base for Tsinghua Unigroup's chip design company called Unisoc in the pasts.
"Although OPPO's R&D center had primarily focused on smartphone technologies when the center was first opened back in 2018, its primary focus now is on development of semiconductors." said a representative who is familiar with the semiconductor industry in China.
OPPO had shown moves to develop its own APs that play a role of "brain" for smartphones since many years ago. Not only did it hire key personnel from a Taiwanese chip design company MediaTek, but it has also made R&D of its own chips official.
However, the fact that it continues to accelerate the development of its own chips despite sanctions imposed by the U.S. Government on Huawei resulting in difficult situations for the Chinese semiconductor industry is drawing attention from the industry.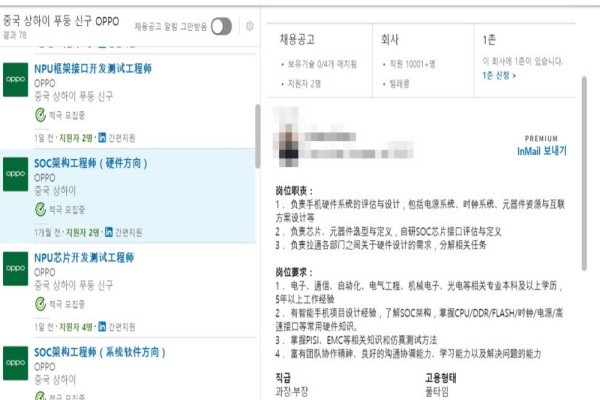 OPPO is not showing any signs of slowing down because various infrastructures and personnel are flocking towards OPPO as HiSilicon's production of cutting-edge APs that are smaller than 7nm is facing a setback due to the sanctions.
It is reported that about 500 developers from HiSilicon moved to OPPO already due to a restructuring and there are also rumors that OPPO is not even conducting interviews on workers who are coming from HiSilicon and scouting them.
The fact that OPPO's semiconductor business is growing while Huawei and HiSilicon are suffering from the U.S. sanctions is one example that frankly shows the Chinese Government's will to develop the nation's semiconductor industry.
One expert from the industry explained that companies from the Chinese semiconductor industry are moving as one body as "Chinese incorporated companies" and that the Chinese Government will continue to provide support from the industry as other semiconductor companies will find alternatives even when Huawei and HiSilicon are pressured by the U.S. sanctions.
Staff Reporter Kang, Hyeryung | kang@etnews.com