LG Chem is looking to increase production amount of cathode materials for its NCMA (Nickel, Cobalt, Manganese, Aluminum) batteries in order to secure competitive edge in production cost and to quickly respond to demands from its customers. It is expected that LG Chem will be able to prepare a foundation for the Advanced Materials Company, which manufactures cathode materials, to produce profits by reducing manufacturing cost.
According to the industry, LG Chem is planning to manufacture cathode materials for NCMA battery from its plants in Cheongju and Iksan. It is also reported that the company is planning to manufacture cathode materials from a cathode material production facility of its Gumi plant that is expected to break ground next year.
NCMA battery is LG Chem's next-generation lithium-ion battery and it is expected to be used for GM's electric vehicles that are scheduled to be launched in the second half next year. The battery is able to increase the range of an electric vehicle with its high nickel content of 90% and lower manufacturing cost with its low cobalt content of less than 5%. By adding manganese and aluminum, the company is looking to increase battery capacity and lower production cost even more.
"By using aluminum that is relatively inexpensive compared to cobalt that is highly expensive, electric vehicles will have much more power and their production costs will be reduced greatly." said a spokesperson for LG Chem. Aluminum costs around $1,500 per ton and it is about 20 times cheaper than cobalt that costs around $30,000 per ton.
LG Chem is looking to manufacture more cathode materials for NCMA batteries on its own in order to respond to increased demands for batteries. It is expecting to see increased demands for its batteries as Nikola also announced its plan to equip its electric semi-trucks with LG Chem's batteries.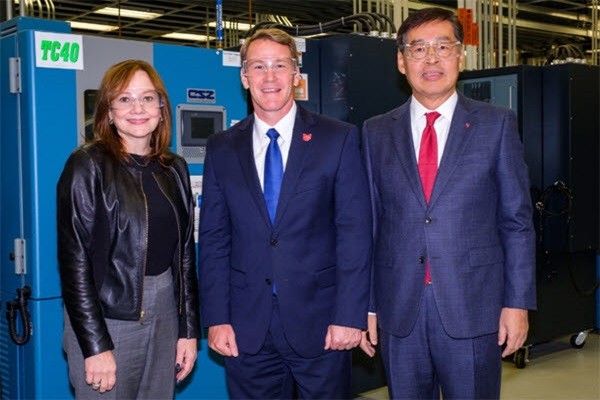 LG Chem is also making huge efforts in manufacturing cathode materials on its own in order to help the Advanced Materials Company that manufactures cathode materials create profits.
The Advanced Materials Company was established by Vice Chairman Shin Hak-cheol after he was appointed as the vice chairman of LG Chem. After dividing the company's business areas into petrochemicals, energy solutions, advanced materials, and life sciences, he has been looking for new business opportunities while having advanced materials as an important factor for the company's future businesses.
The Advanced Materials Company made $57.5 million (67.1 billion KRW) in operating profit in the first half which is a 12.13% jump from the first half last year. It is expected to make even more profit once it gains competitive edge in production cost from increased demands for cathode materials for NCMA batteries.
However, LG Chem is currently receiving most of cathode materials from outside companies as its cathode material production facility is not constructed yet. It plans to receive cathode materials from a joint venture based in China for a while and two other cathode materials suppliers in South Korea.
A spokesperson for LG Chem told the Electronic Times that the company plans to manufacture half of a required amount of cathode materials on its own and that it expects that the Advanced Materials Company will be able to reduce its cathode materials manufacturing cost.
Staff Reporter Kim, Jiwoong | jw0316@etnews.com