It was turned out that most of batteries of "Model 3" that Tesla has sold in China this year were from LG Chem. LG Chem was also selected as the battery supplier recently for an industrial energy storage system (ESS) construction project in the U.S. As a result, it is set to supply medium and large-sized ESS batteries totaling 250 MW for a photovoltaic facility in California. All of these cases show that LG Chem's battery business overseas is cruising.
According to the industry on Tuesday, electric vehicle batteries that LG Chem had supplied to China from January to July this year totaled 3,487.5 MWh. Out of this amount, 3,437.43 MWh (98.5%) was for batteries of Tesla's Model 3.
This year's supply of LG Chem's batteries has started to increase rapidly as they have begun to be supplied to Tesla for Model 3. The industry believes that Tesla started to use LG Chem's cylindrical batteries for Model 3 since January.
This cylindrical battery is LG Chem's 21700 cylindrical battery that is 21mm in diameter and 70mm in height. Due to its standardized size, it is relatively inexpensive.
LG Chem started to use high-nickel cathode material in order to increase the energy density that was seen as a weakness of the company's cylindrical batteries. By using cathode materials with more than 80% nickel content, it was able to make up low energy density and succeeded in supplying its cylindrical batteries to Tesla as a result.
When asked about the company's transaction with Tesla, LG Chem declined to disclose any information related to its customers.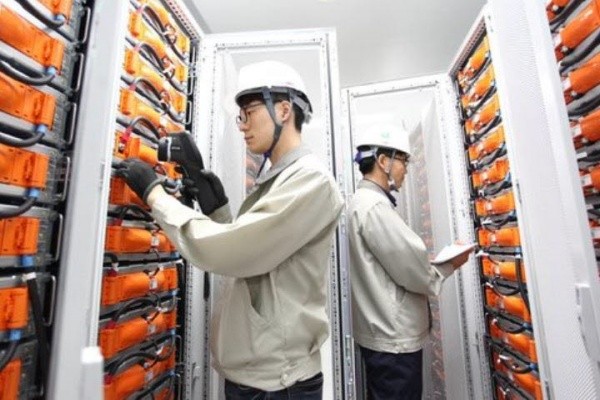 LG Chem is also continuing to obtain orders for its medium and large-sized batteries. It was recently selected as the battery supplier for a new and renewable energy storage system construction project linked to solar energy generation that is being pushed forward by an American new and renewable energy generation company called LS Power.
The total capacity of batteries that LG Chem will supply is 250 MW which is equivalent to the amount of power that 7,500 households can use in a single day. It is heard that the total value of the order is around $126 million (150 billion KRW).
LG Chem's batteries will be mostly used as supplemental power source for solar energy. Power that is generated will be sent to a national electrical grid through electricity-related authorities in San Diego and provided to households afterwards.
LG Chem is also expecting to obtain additional orders. The U.S. is pushing for a $9 billion new and renewable energy project until 2029. It is heard that LG Chem is receiving inquiries about its batteries from various American companies.
A spokesperson for LG Chem said that the company will look to target battery markets in overseas based on technologies that the company has secured from various fields such as electric vehicle battery and ESS.
Staff Reporter Kim, Jiwoong | jw0316@etnews.com