KT declared that it would overcome Wi-Fi's coverage and speed issues in households and offices through "GiGA Wi" service. GiGA Wi connects two Wi-Fi routers and uses them as a unified router.
KT's goal is to accelerate its "in-house wireless strategy" that maximizes synergy by combining its competitive edge in wired internet and Wi-Fi wireless infrastructure and make it more convenient for its customers and secure 10 million members for its ultra-high-speed internet by 2022.
KT held a press conference on June 22 and launched three new "GiGA Wi" services.
"GiGA Wi" service is a service that has improved coverage and speed due to application of "Easy Mesh" technology in order to bring more convenience for customers under an assumption that Wi-Fi has become a must for households and offices. It automatically finds the best Wi-Fi utilizing two Wi-Fis access points (AP) depending on the location of a person and removes inconvenient access procedure.
◊GiGA Wi expands coverage by utilizing two Wi-Fi access points as one access point
GiGA Wi internet service connects to the optimal Wi-Fi connection regardless of location inside a house using two Wi-Fi APs. The new GiGA Wi service adds Buddy, a second access point, to the current GiGA Wi-Fi premium AP. The Buddy AP provides up to 876Mpbs and it can be installed anywhere where coverage may not reach. Although its speed can differ depending on the structure of a house, the Buddy AP provides close to the maximum speed in a 30-pyeong house and there will not be much issue with its speed in a 40-pyeong house as well.
GiGA Wi internet service's monthly payment for 1G is $29 (35,200 KRW) based on a three-year package plan contract. If current GiGA Wi-Fi customers convert to GiGA Wi internet service until the end of August, they can use the GiGA Wi internet service without having to pay extra for the next three years. KT is offering this promotion in order to accelerate converting its current GiGA Wi-Fi customers into using GiGA Wi internet.
"GiGA Wi Single tv" is a package plan of internet and IPTV for single households. It provides GiGA Wi Single tv basic package (229 channels) and GiGA Wi Single tv essence (250 channels) and its fixed monthly payments based on a three-year contract are $27 (33,000 KRW) and $31 (37,400 KRW) respectively.
"GiGA Wi Single eyes" is a plan for small businesses. It provides an internet connection service through Wi-Fi along with a video security CCTV system called GiGAeyes. Its monthly payment based on a three-year contract for GiGA Wi Single eyes i-slim product is $31 (37,070 KRW).
While these two plans cost 15 to 20% cheaper compared to other similar products, only one device can have concurrent connection to basic Wi-Fi. If a person pays $4.50 (5,500 KRW) additionally, he or she can use additional wireless access. Although the number of devices that can be accessed to GiGA Wi internet is limited considering the fact that main customers are single households and offices with single person, some also believe that paying additional cost for additional line is somewhat burdensome.. KT's task is to persuade its customers by putting forth personalized products.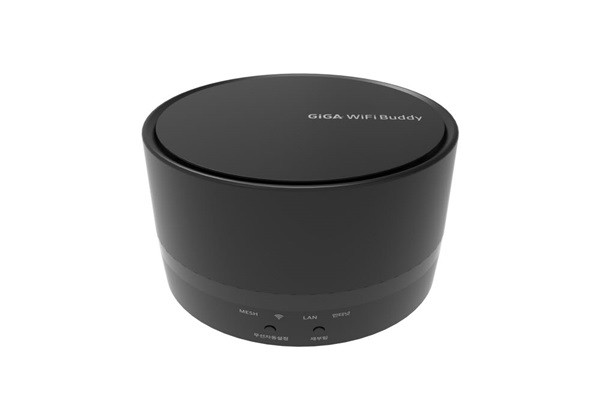 ◊KT looks to secure 10 million members for its ultra-high-speed internet by 2022
KT analyzed that its customers are starting to use its internet service more for mobile devices such as smartphone and tablet more rather than fixed devices such as PC. After conducting its own investigation, it was shown that its customers use wireless access 70% of the times while they use wired access 30% of the times when they use KT's internet service at home. It estimated that the number of devices connected to its internet service will increase from 2.4 devices in 2017 to 3.6 devices in 2022.
Although KT has the upper hand when it comes to the ultra-high-speed internet market, it believes that it will not be able to deal with changes in its customers' behaviors if it becomes satisfied with its current wired LAN products. As a result, it established "in-house wireless" strategy so that its current internet service customers can freely use its wireless service based on its wired internet infrastructure. It is confident that it will be able to absorb demands for both wired and wireless services as Wi-Fi technology is an important technology for differentiation.
KT is planning to have 50% of new customers for its internet service join its GiGA Wi service by 2022 and have one million GiGA Wi users. Based on its competitive edge in GiGA Wi, it looks to secure 6 million members for its GiGA internet service, which will be the first ever in South Korea, by 2021 and 10 million members for its ultra-high-speed internet service by 2022. The number of KT's ultra-high-speed internet service users just surpassed 9 million in May. KT believes that it will be able to achieve its goals without much difficulty based on its competitive edge in different products and technologies.
"We will perform our roles as a GiGA Wi-Fi-based telecommunications infrastructure business as we start to welcome the contact-free era." said Lee Sung-hwan who is the head of KT 5G/GiGA Business. "We will continue to achieve innovations through our GiGA Wi service that provides both optimal speed and coverage."
Staff Reporter Park, Jisung | jisung@etnews.com